Anthony Susac has grown up in a baseball family. The senior right-handed pitcher at Jesuit High School in California has watched his cousin, Andrew, develop into a major-league catcher, while his father, John, has served as his pitching coach since he was young.
Susac first pitched in a baseball game when he was 7 years old. In that contest, his catcher was his cousin, Daniel, who has caught "probably 95% of the game" he's pitched in as a prep baseball player, Susac said.
The family baseball atmosphere has helped Susac develop into one of the top prep players in the 2021 class. He especially credits his father for his growth as a pitcher throughout his prep career, as his father has instilled in him a strong work ethic and a passion for the game, Susac said.
"He's our high school pitching coach, and he's been my pitching coach and mentor my entire life," Susac said. "He's very hard on me. He doesn't tell me what I want to hear, but what I need to hear. He is going to give me the cold hard truth. I really appreciate that feedback from him."
Besides being a well-regarded prep player, Susac also is a top prospect for the 2021 MLB draft. Professional scouts peg Susac as a likely early-round pick in next year's draft.
Susac isn't a stranger to the draft attention. He watched his cousins and friends, including Oakland Athletics 2020 first-round pick Tyler Soderstrom, go through the draft process. He believes those experiences will help him as he prepares for the 2021 draft.
"It's going to be the third time I've seen it play out," Susac said. "I saw it play out with Andrew in 2009 in his senior season at Jesuit High School. I remember dog piling with them when they won their sectional championship. I remember his draft process in high school, and then I remember when he was drafted his sophomore season at Oregon State when he got drafted by the Giants in the second round.
"I got to see Daniel go through it all last year. I've spent a lot of time in a major league clubhouse. More than most kids my age have. It's been a really cool experience watching Andrew, and I don't take it for granted."
Susac had high expectations for his junior season this spring. His high school season didn't transpire like he envisioned, however. He estimates that he had nine starts this spring canceled due to the COVID-19 pandemic.
He also didn't participate in the PDP League, a four-week event put on by MLB and USA Baseball for 80 of the top high school players each summer. The cancelation of the PDP League was disappointing for Susac, who "was really looking forward to the event," he said.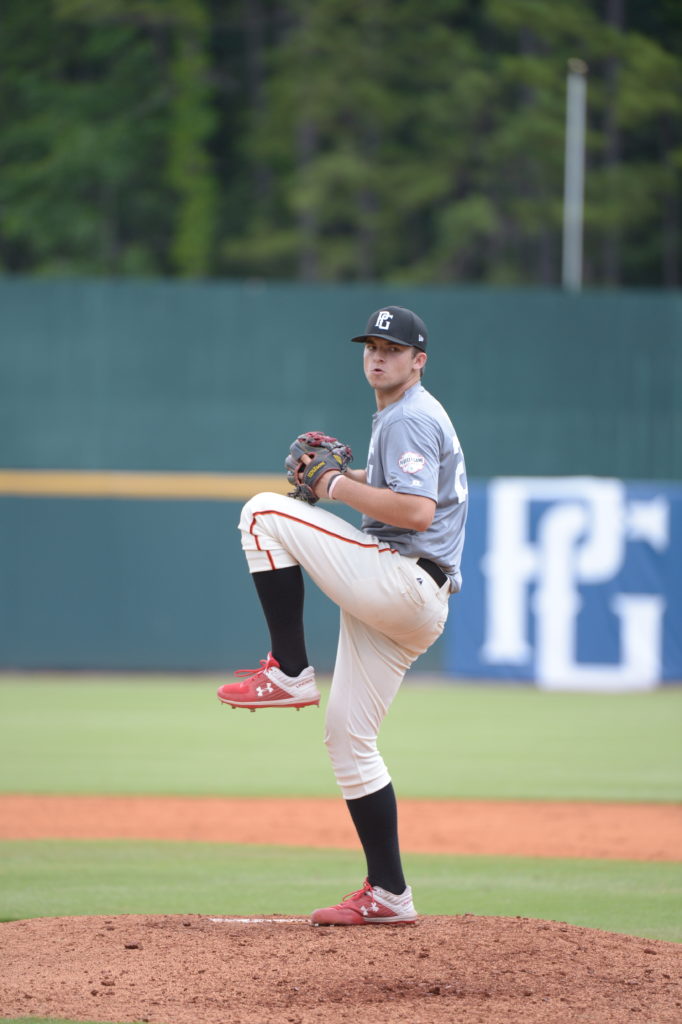 Susac participated in the Perfect Game National Showcase this summer, which allowed him to compete against elite prep hitters.
Susac has used the down time this spring and summer to improve as a baseball player.
Susac is a 6-foot-3, 215-pound right-hander who throws a four-seam fastball, slider, and changeup from a compact arm action. He also repeats his smooth mechanics well.
His fastball sits in the low-90s, regularly hitting 91 to 93 mph. His four-seamer features plenty of arm side run due to his three-quarters arm slot. His slider serves as his outpitch, and he features solid command and plenty of confidence in the pitch. It sits in the high-70s and sometimes features some slurvy movement. He also has confidence in his changeup, which serves as a quality off-speed pitch.
"My biggest strength is my mental toughness," Susac said. "I'm not scared of any situation. I can throw any pitch in any count. The command of my off-speed pitches too. If I don't have my fastball, I can resort to my slider, and if I don't have those, I can go to my changeup. I always have at least one pitch working. I think the biggest thing is competing and being able to win when I don't have my best stuff."
Susac also believes his changeup is one of his biggest strengths. It features arm side run and sink and sits in the low-80s.
His changeup has been a project since his freshman year. He's pleased with the progress he's made with the pitch over the last four years. It even was his best pitch at the Perfect Game National Showcase this summer, he said.
"I feel like I have developed that as a third pitch and as a really good pitch," Susac said. "Now, I can trust the grip and know that I have the right grip. I can have full arm speed on it and have the right movement I desire. Really it is all trust, and now I trust it."
In preparation for his senior year of high school, Susac has prioritized improving his mechanics and command. To refine those two areas, Susac has worked on his diet and sleep schedule.
"I looked at my weaknesses, and I boiled that down to sleep and my diet," Susac said. "I have been really toning in on those. I have a sleep tracker that I wear every day now. My diet, I am really trying to shed some fat and lean out a little bit. I want to work on my mechanics, and some of my problems were mobility needs and my lower half.
"I figured if I could lean out a little bit and recover, so my muscles recover better that I will be able to attack those things. Those two things will really help me with my mechanics."
While Susac eagerly awaits to see how the draft process pans out over the next 10 months, he also is an Arizona commit. He initially committed to Oregon State, but after highly-respected pitching Nate Yeskie left Oregon State for Arizona following the 2019 season, Susac switched his commitment to Arizona.
Susac's cousin, Daniel, also flipped his commitment from Oregon State to Arizona. Daniel was a well-regarded prep catcher in the 2020 class and is a freshman at Arizona this year.
If the draft doesn't work out in Susac's favor, he is more than willing to attend Arizona for three years to work with Yeskie on his pitching skills.
"Last year, when Coach Yeskie left and went to Arizona, we decided to follow him to Arizona because we trust him," Susac said. "As far as for my pitching career, I think he's the top pitching coach in the entire country, including professional baseball. I think it's in the best interest of my career to follow him and have him as my coach. That was a no brainer to follow him to Arizona."
Read more stories on top 2021 MLB draft prospects here.
Dan Zielinski III has covered the MLB draft for six years. He's interviewed 253 of the top draft prospects in that period, including three No. 1 overall picks. Multiple publications, including Baseball America, USA Today, MLB.com and The Arizona Republic, have quoted his work, while he's appeared on radio stations as a "MLB draft expert." Follow him on Twitter @DanZielinski3.