BROOKLYN, N.Y. – Blaze Jordan's baseball prowess was clear from an early age. He rose to prominence as a 13-year-old when he participated in a power showcase at Globe Life Field in Texas. He hit two home runs over 500 feet in length. Three years later, he won the high school home run derby at the 2019 MLB All-Star Game in Cleveland, furthering his status as a slugging prodigy.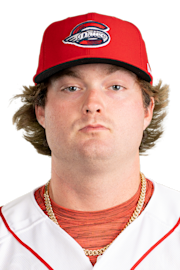 "It is glory to God and a lot of God-given talent," Blaze Jordan said about his baseball opportunities as a youngster. "A lot of hard work ended up paying off for me, from working with my brother to all the training that I did back home in Mississippi.
"The showcases gave me a lot of experience and the confidence in everything. It also put me out there to meet a lot of new people and all these other players and learn from them. Hitting in those major league ballparks shows you what you really want to play for in the future."
Beyond the power is a promising young player looking to polish his overall talents as a prospect in the Boston Red Sox organization. This season with advanced Class A Greenville, the 20-year-old is hitting .300/.350/.488 with seven home runs and 37 RBIs.
His most significant improvements have come in his strikeout rate. After striking out in nearly a quarter of his plate appearances during a late-season stint in advanced Class A a year ago, Jordan cut his strikeout rate to 14.8% and slightly increased his slugging percentage this season.
"The biggest thing for me has been my pitch selection and getting pitches to drive early in the count and not swinging at waste pitches," Jordan said. "I feel like that has been the biggest struggle that I had the last couple of years, swinging at pitches that I have not been able to drive. This year I feel like I have done a better job of that, and I am going to continue to improve in that area."
Jordan has developed at the plate due to his adjustments with taking the ball the opposite way and hitting line drives that result in extra-base hits. His quick wrists and bat speed through the zone help him react swiftly to take outside pitches to right field and pull pitches on the inside half of the plate. He also favors swinging at hittable pitches early in counts instead of drawing a significant amount of walks.
"I feel like my swing plays to the opposite field well," he said. "It goes with the approach I go into within each at-bat. That is just the way my swing plays, because if I try to pull the ball too much, I get out of my plan and get out of my swing. I'm at my best when I go to right center field.
"I like to swing early in the count if it's a hittable pitch because these guys (on the mound) are pretty good, so you don't want to fall behind too much. I know when I get into a two-strike count, I have the confidence that I can fight anything off and get a pitch that I can kind of handle and put it in play pretty hard."
In the field, Jordan splits time between both corner infield spots. This season, he has found greater success at first base. He likely projects as a first baseman due to his limited range at the hot corner. He has improved his hands and footwork and hasn't committed an error at first base.
"This offseason, I got my body in much better shape than it was last year, and there is still work to improve upon on both sides at third base and first base throughout this journey," Jordan said. "I feel like I have done a pretty good job this year overall with my athleticism and side-to-side movements. I put my body in a better position to play both positions."
Jordan spent the early portion of the season playing the infield alongside Red Sox top prospect Marcelo Mayer, who earned a promotion to Class AA Portland at the end of May. The two have built a tight relationship on and off the field during their time together.
"Mayer was my roommate ever since Salem this past year also (at Greenville)," Jordan said. "He is such a great guy to learn from and a great friend. We have become super close. I am excited to see him get called up to Portland. He is swinging it pretty well up there now. He is a great ballplayer that has superstar potential, in my opinion."
The Red Sox drafted Jordan in the third round of the 2020 MLB draft out of DeSoto Central (Miss.) High School. He was the Mississippi Gatorade Player of the Year, hitting .440 with 10 HR and 46 RBIs. Jordan was eligible for the 2021 draft but reclassified to graduate a year earlier.
"Getting into professional baseball at a young age really helped me," Jordan said. "I was able to get a lot of extra at-bats one year early. I feel like I am very comfortable now, being in my third year of pro ball. It was a good thing that I did that, and I would not change a thing about my decision. I think I developed a lot faster than if I stayed another year (in high school)."
Tim Dulin has been a significant figure in Jordan's life since he was 5 years old. Dulin is a former minor league infielder and All-American at Memphis. His experience shaped Jordan as a player during his time on a high school travel team called the Dulin Dodgers.
Dulin aims to teach youngsters the fundamentals of the game and life skills that are beneficial in the future. Dulin alums include Mookie Betts and Zack Cozart.
"I learned a ton being around the Dulin Dodgers because the players would all play professional baseball themselves," Jordan said. "Most of the things I learned from Dulin himself was the mental side of the game and how to play the game hard and the right way. I also learned about how to approach game situations and doing what is best to help your team win games."
Jordan's extensive baseball background and the attention he attracted as an internet sensation helped him gain the mental toughness necessary to tackle the demands of professional baseball at a young age.
According to MLB Pipeline, he is the Red Sox's 10th-best prospect. He hopes the strides he has made in the minor leagues will someday translate into hitting home runs over the Green Monster at Fenway Park.
"I felt like I dealt with a little bit of pressure at a young age. It was tough at first for sure, especially 13 or 14 years old, but now I am just used to it," Jordan said. "I see some guys (where the pressure is getting to them now), and they are able to lean on me and learn what I had to go through. Now it is a little easier for me. When the pressure gets to me, I am able to know that I have gone through it before and just go from there.
"It would mean everything to me (to play for the Red Sox) after all the sacrifices. Hopefully, that day will come, and I can't imagine what it would be like. I just have to keep working and grinding and go from there."