Brian Keller was one level away from the major leagues last year, pitching for the New York Yankees' Triple-A affiliate Scranton/Wilkes-Barre.
The 6-foot-3, 210-pound right-handed pitcher has made tremendous strides throughout the first four years of his professional career. Despite his success, expectations weren't high for the Germantown, Wisconsin native when he first entered pro ball.
After earning Horizon League Pitcher of the Year as a senior for the Milwaukee Panthers, Keller was a 39th-round pick by the Yankees in the 2016 MLB draft. There are 40 rounds in the draft and most late-round picks rarely materialize into anything in pro ball. But Keller has already defied the odds and is knocking on the door of the big leagues.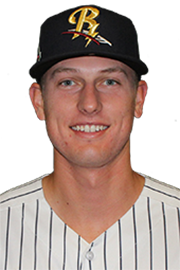 "It's kind of in the back of my mind," said Keller on his draft spot. "I think it would be more of a cool story than anything else. I wouldn't say it motivates me any more than the next guy. I was given an opportunity, and I just want to make the best of it."
Last year, Keller missed the first two and a half months of the season with a flexor strain in his right elbow. He returned to the mound healthy and made one start for Single-A Staten Island, allowing just three hits while striking out four batters in six scoreless innings.
The Yankees promoted the right-hander to Double-A Trenton after the start. Keller excelled in seven starts with Trenton, posting a 2.32 ERA with 33 strikeouts and 10 walks allowed in 42 2/3 innings.
In his final start in Double-A, Keller pitched a seven-inning no-hitter. He struck out six batters and walked one hitter in the outing. In Minor League Baseball, each game of a doubleheader is seven innings compared to the normal nine-inning game.
Once again, the Yankees bumped Keller up another level. He made his Triple-A debut on Aug. 8, 2019, and allowed two runs in seven innings. Keller faced the same opponent five days later and was roughed up, allowing 11 runs in 4 2/3 innings.
That one start skewed his numbers the remainder of the season. He made five starts at Scranton/Wilkes-Barre, posting a 6.91 ERA with 25 strikeouts and nine walks allowed in 27 1/3 innings.
Keller had high hopes for this season. He wasn't invited to major-league spring training in March but pitched one scoreless inning for the Yankees, striking out three batters in the appearances.
With the major league season set to begin in late-July and no minor league season this year due to the coronavirus pandemic, Keller is unsure of what this season will hold for him. The Yankees didn't add him to their 60-man roster, so he is working out in Wisconsin in case he has to pitch this year.
"It is what it is," Keller said. "I feel like that's kind of the theme of 2020. We don't know what's going to happen until it happens kind of. It's just the way it is."
Keller is used to having to prove himself. In college, Keller flew under the radar his first two years before developing into a reliable and effective starting pitcher for the Panthers over his final two seasons.
As a junior in 2015, Keller recorded a 3.50 ERA with 65 strikeouts and 20 walks allowed in 97 2/3 innings. He showed improvement in his senior year when he posted a 3.10 ERA with 103 strikeouts and 20 walks allowed in 107 1/3 innings in 2016.
It was one of the best seasons in program history, as he became the first Panther pitcher to win at least 10 games. Despite his success, Keller wasn't sure if he would be drafted. The Yankees called his name in the second-to-last round of the draft, giving him a chance to prove himself in pro ball.
Keller credits the Panthers' coaching staff for preparing him for pro ball.
"Looking back on it, I thought it was a pretty cool way how (head coach Scott Doffek) and (pitching coach Cory Bigler) run the program over there," Keller said. "It's very similar to professional baseball because they hold you accountable to get your work done and to develop and figure out what works for you.
"I hear a lot of programs do that cookie-cutter approach with their training or throwing program or whatever it is. It was nice that the coaches left it up to us and would kind of guide us along the way."
In college, Keller's fastball sat mostly in the high-80s and occasionally hit the low-90s. He experienced a slight uptick in velocity during his first pro season in 2016. After receiving suggestions from former Milwaukee head strength and condition coach Brian Wiseman on an offseason program, Keller added another two or three miles per hour to his fastball velocity.
Now, Keller's fastball velocity sits 90 to 95 mph. The Yankees' coaches value pitchers who pitch off their fastball and locate the pitch in all quadrants of the strike zone, Keller said. With an increase in velocity, it has helped Keller generate swings and misses and attack the zone, especially against high-level hitters.
Keller's success throughout his pro career has given him confidence. Although this season is unique because of the pandemic, Keller is eager to see how far his baseball career can take him.
Mark Buehrle, a 38th-round pick, and Kenny Rogers, a 39th-round pick, are pitchers who have thrown perfect games in the major leagues despite being late-round picks. Although Keller has turned his focus away from his draft status, he hopes to one day make an impact at the game's highest level.
"I think after that first year the label on each player isn't so much their draft round or draft pick number, but it is more what they are doing in the system," Keller said. "I kind of dropped the whole 39th round thing, and I just want to be the best professional baseball player I can be. I kind of hold myself even with everyone else and try to not worry about anything else."
Dan Zielinski III has covering the Milwaukee Panthers since 2013. Follow him on Twitter @DanZielinski3.