Brody Brecht has always had a passion for football. The joy the sport brought him is one of the reasons why he declined MLB draft interest out of high school so he could play football and baseball at Iowa, his home-state university.
But after two years on the gridiron, Brecht hung up the football cleats to focus exclusively on baseball for the first time in his career. The decision has allowed the right-handed pitcher to go through fall practice for the first time as he prepares for the biggest season in his college career.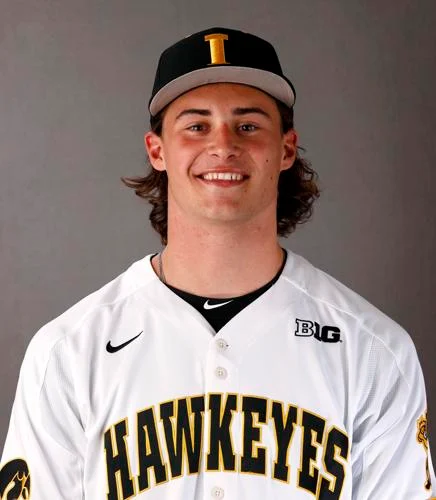 "It was the hardest decision I've had to make," Brecht said. "Football has and always will be my first love. I love competing and going out there. The brotherhood and competitiveness on the football field are something I love and miss. But at the end of the day, to get where I want to go and to go to the league, God willing, having a fall to do that would be the best thing for me. That was the deciding factor where football isn't my future or focus on baseball."
Brecht has used the fall season to clean up his mechanics and prepare physically for his junior season. The expectations are incredibly high for Brecht entering the spring, as talent evaluators consider him arguably the best pitcher in college baseball.
Brecht has made notable strides in his first two years at Iowa. The Ankeny, Iowa, native joined the Hawkeyes as a highly-regarded recruit with tremendous potential. The right-handed pitcher has displayed that promise that made him a potential early-round pick in the 2021 MLB draft while continuing to refine his skills to enhance his prospect status.
As he prepares for his junior season, scouts project Brecht as the potential top pick in the 2024 draft due to his electric pure pitch mix and ace potential.
"I want to do everything I do to glorify God," Brecht said. "I believe God has blessed me with the ability to do great things in baseball, so I want to give him all the praise and glory. That is the most important thing for me. Also providing for my family. I want them to be in a spot where they don't have to work another day in their lives. Those two things are what really motivates me."
Brecht is a 6-foot-4, 230-pound right-hander who throws a four-seam fastball, slider, splitter and cutter from a three-quarters arm slot with some deception.
Brecht's fastball is an elite offering that sits in the high 90s and touches triple digits, including a 104-mph fastball against Maryland last year. He has worked on developing more efficiency and riding action with his fastball. His hellacious slider is an elite breaking pitch that sits in the low-90s with plenty of depth. He can land his slider consistently for strikes, and it serves as a nasty strikeout pitch.
Throughout the fall, Brecht has developed a splitter in place of the circle changeup he used to have in his repertoire. He also has a 93-94 mph cutter with legit cut that he plans to mix in occasionally this spring.
"God has blessed me with some great ability on the mound," Brecht said. "A lot of guys have nasty stuff too, whether in college or the league, and their stuff gets hit sometimes. It's great to throw nasty stuff, but you have to know where to throw it.
"The biggest thing for me going into this season is being in the zone when I want to be in the zone and being out of the zone when I want to be out of the zone. The stuff is great, but you also want the command to be great. We have been working on fixing the command and getting better at dominating the zone."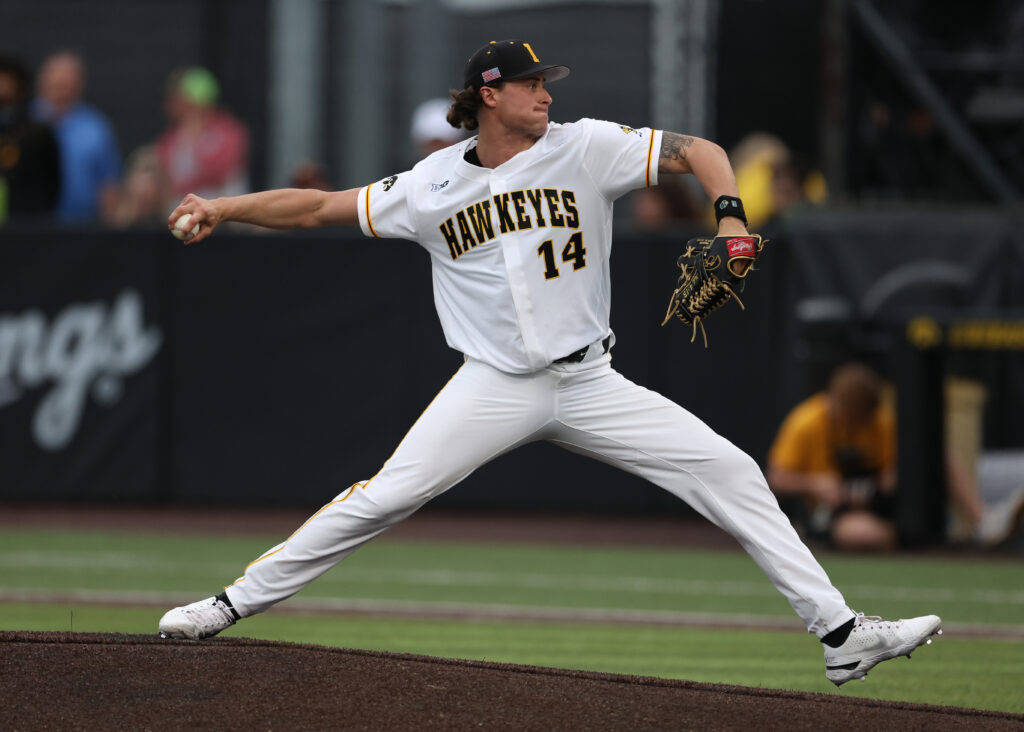 Brecht worked as a reliever during his freshman season at Iowa in 2022, posting a 3.18 ERA with 44 strikeouts and 25 walks allowed in 22 2/3. His role expanded last season, as he made 16 of his 17 appearances as a starter. He recorded a 3.74 ERA with 109 strikeouts and 61 walks allowed in 77 innings.
In his first two years, Brecht showed tremendous promise and hopes to take the next step in his development as a junior. He will lead arguably the best starting rotation in college baseball this season. Besides Brecht, Iowa will rely on junior righty Marcus Morgan and sophomore lefty Cade Obermueller, both potential early-round picks in the 2024 draft.
Iowa posted a 44-16 record to qualify for the NCAA Tournament last season for the first time since 2017. It also marked Iowa's sixth tournament appearance in program history. The Hawkeyes lost in the regional final to Indiana State to end their season.
Last year's finish has left a bitter taste in the team's mouth and has motivated them as they prepare for this season, Brecht said. The Hawkeyes have the pieces to advance in the tournament and potentially reach the College World Series for the second time in program history this season.
"It was always my dream to play in the black and gold, whether it be football or baseball," Brecht said. "I just wanted to represent the state of Iowa and be in a position to put us back on the map. I've been in Iowa my entire life and a supporter. I just want to give back to them, have a really good year this year and make them proud. It's truly been a dream come true to play here. It's been awesome."
Dan Zielinski III has covered the MLB draft for nine years. He has interviewed 518 of the top draft prospects in that period, including four No. 1 overall picks. Multiple publications, including Baseball America, USA Today, MLB.com, The Arizona Republic and The Dallas Morning News, have quoted his work, while he has appeared on radio stations as a "MLB draft expert." Follow him on Twitter @DanZielinski3.