Charlie Bates was a sophomore at Palo Alto (Calif.) High School when outfielder Henry Bolte was one of the top players in the country in 2022. Bolte had a notable senior season and went to the Oakland Athletics in the second round of the MLB draft.
Bates developed a strong friendship with Bolte during their season playing together. It also taught him the work ethic necessary to develop into a draft prospect. Now, nearly two years later, Bates is in a similar situation. Bates, a well-rounded shortstop, is one of the top prep players in the country and a potential first-round pick in July's draft.
"It's surreal," Bates said. "I was never really the biggest kid or the strongest guy. I really just put my work in. Seeing myself shoot up all these rankings in a short time has been really, really cool. I know there is a lot of work to put in. But when I step back, I realize I have come a long way."
Bates is a 6-foot-1, 185-pound left-handed hitting shortstop with notable skills on both sides of the ball. Scouts rave about Bates' defensive tools. He has strong instincts and smooth defensive actions at shortstop. He moves well and covers plenty of ground to make all the necessary plays.
Scouts believe Bates can remain at shortstop in pro ball due to his athleticism, arm strength and baseball IQ.
"I think right now definitely it is my glove," said Bates on his biggest strength. "I can play second and short and throw from all angles. Right now, I think that is where I can offer a lot of value."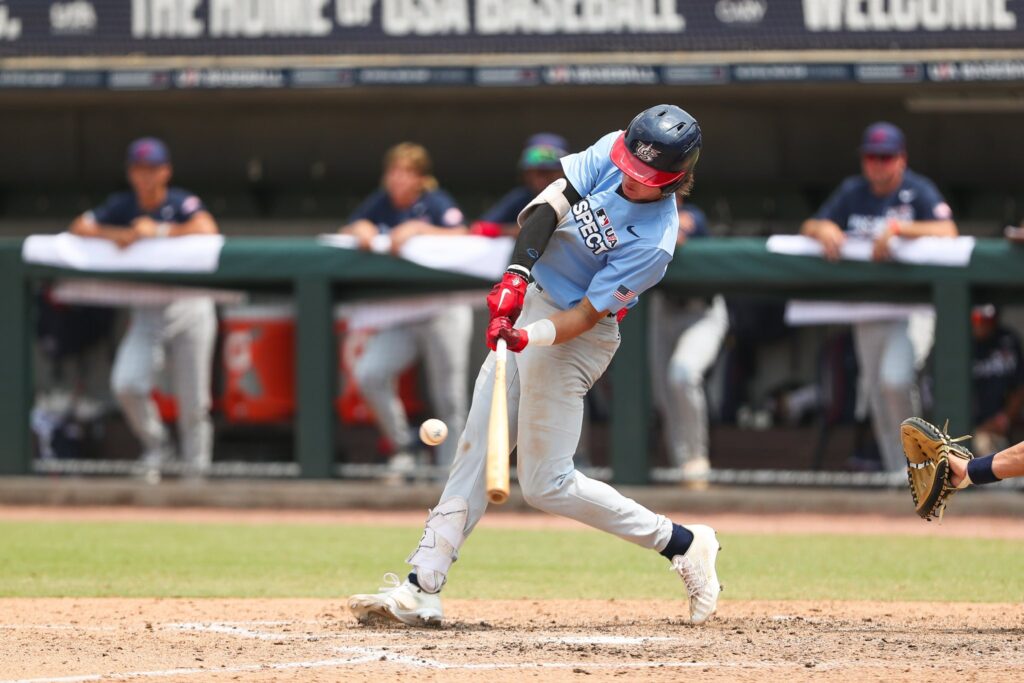 Offensively, Bates is a left-handed hitter who uses a quick, compact swing to drive the ball into the gaps. He consistently finds the barrel and drives the ball with authority. He displayed improved power this summer and figures to continue to add more power as he matures physically.
"Over the summer, I saw more pop in the bat, but that is something I want to continue to see grow," Bates said. "Through this offseason, I want to get stronger and grow that power."
Bates is one of the top shortstops in the country due to his premium defensive skills and quality offensive tools that are continuing to improve.
Besides his status as a top draft prospect, Bates is a Stanford commit. He had a narrow list of potential schools as he went through the recruiting process but always dreamed of playing close to home at Stanford. The university's elite academics and athletics factored into his decision, Bates said.
Stanford is moving to the Atlantic Coast Conference in August 2024 due to the collapse of the Pac-12 Conference. Bates remained in constant contact with the baseball coaching staff during the conference realignment discussions and is excited for the change.
Stanford boasts one of the premier baseball programs in the country. The Cardinal is extremely competitive, advancing to the College World Series in each of the last three years, and consistently produces talent for pro ball.
"Stanford is right across the street here with being from Palo Alto," Bates said. "I grew up to a lot of games growing up with my parents. I remember going out there when I was 12 and telling my dad that this is somewhere I want to play, and I will work my butt off to get here. As I got older, I realized that could be a possibility. It was always Stanford. That is where I wanted to go."
Dan Zielinski III has covered the MLB draft for nine years. He has interviewed 518 of the top draft prospects in that period, including four No. 1 overall picks. Multiple publications, including Baseball America, USA Today, MLB.com, The Arizona Republic and The Dallas Morning News, have quoted his work, while he has appeared on radio stations as a "MLB draft expert." Follow him on Twitter @DanZielinski3.