Chase Dollander dominated opposing hitters in his first year in the Southeastern Conference last season. The Tennessee right-handed pitcher averaged 12.3 strikeouts per nine innings and posted a 2.39 ERA to earn SEC Pitcher of the Year.
It was a notable accomplishment for Dollander, who spent his freshman season at Georgia Southern after receiving only two college offers out of high school.
Expectations are now high for Dollander as he enters his junior season. Over the last three years, he has gone from a lightly-recruited prep pitcher to the best pitcher in college baseball and a potential top-five pick in the 2023 MLB draft.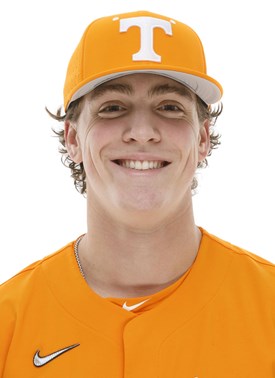 "Anyone who says they aren't thinking about it is crazy. It is always in the back of your mind no matter what," Dollander said. "For me, it is in the back of my mind. But I'm trying to leave it back there, so I don't become someone no one likes in the locker room. Seeing my development and knowing I will have the opportunity to have a pro career after this is insane for me. It's a dream come true."
Dollander transferred to Tennessee because he wanted to play at a higher level and work with pitching coach Frank Anderson.
Anderson is one of the premier pitching coaches in baseball and has a proven track record of developing talent for the professional ranks. In his five years at Tennessee, Anderson has developed lefty Garrett Crochet into a first-round pick and Blade Tidwell into a second-rounder.
Anderson has helped Dollander improve his mentality, which Dollander believes is the biggest reason for his growth on the mound.
"He told me he trusted me and that I need to trust in myself because you have an opportunity to be one of those dogs in this program," Dollander said. "I took that and ran with it. Having that mentality on the mound is something you need. It has helped me to bring myself to the next level."
Dollander is a 6-foot-3, 205-pound right-handed pitcher. He throws a four-seam fastball, changeup, slider and curveball from a three-quarters arm slot, smooth delivery and quick arm action.
His fastball is his best pitch. It sits in the mid-90s and reaches 100 mph. He attacks hitters up in the strike zone with his fastball due to its vertical ride. He will use it to steal a strike low in the zone.
Dollander's changeup and slider are his best off-speed pitches. His slider is his outpitch. The 85-89 mph breaking pitch features hard and late movement. It is an above-average pitch.
He throws a harder changeup at 88-90 mph, which features fading action to left-handed hitters. This season, Dollander wants to utilize his changeup more against right-handed hitters.
In the offseason, Dollander worked on his curveball. He used the 12-to-6 curveball early in counts to steal a strike last season. This season, Dollander hopes to use it as a strikeout pitch.
Dollander shows excellent command and control of his pitches. He issued 13 walks in 79 innings for an average of 1.5 walks per nine innings in 2022.
"The biggest strength in my game right now is my mentality," Dollander said. "I just have that mentality of here it is and good luck. That's not trying to be cocky or anything, but it's just what you need to have on the mound. You will face these SEC hitters, and they're all really good. You have to have the mentality and the pitches to back it up."
Last season, Dollander played an instrumental role in Tennessee's historic season. The Volunteers were unstoppable in the regular season and entered the NCAA tournament as the heavy favorite to win the national title. However, Notre Dame upset them in the NCAA super regional. The Volunteers finished the season with a 57-9 record.
The Volunteers are trying not to focus on last season's ending. They hope to return to the College World Series in Omaha, Nebraska, and capture the program's first national title in 2023.
"We can't try to do what we did last season because what we did last season is something no one has really seen in years," Dollander said. "If we keep that in our mind and think we have to beat what we did last season, we will just defeat ourselves. We just have to compete and do the best we can. The rest will take care of itself."
Do you enjoy reading Baseball Prospect Journal's draft content? Support our work and become a Patron!
Dan Zielinski III has covered the MLB draft for eight years. He has interviewed 433 of the top draft prospects in that period, including four No. 1 overall picks. Multiple publications, including Baseball America, USA Today, MLB.com, The Arizona Republic and The Dallas Morning News, have quoted his work, while he has appeared on radio stations as a "MLB draft expert." Follow him on Twitter @DanZielinski3.