Dylan Crews is the top amateur baseball player in the country. He also is the favorite to go first overall in July's MLB draft.
Crews isn't fazed by the outside attention and expectations, though. The LSU junior center field has a calm and confident demeanor with a team-first mindset.
It helps that he isn't a stranger to the national spotlight. In high school, he played up a grade each year on the showcase circuit, competing against players a year older than him. His performance against premium pitching and potential led scouts to project him as a potential first-round pick in the 2020 draft.
But one week before the draft, Crews withdrew his name and honored his commitment to LSU. The Florida native believed college provided him with the best avenue to develop his skills. The decision has worked out in his favor, as he has performed at an elite level in his first two years and enters this season as the face of college baseball.
"The biggest thing for me is to be me," Crews said. "Where I will get in trouble is if I'm not going to be me and trying to live to a certain expectation that is not reachable. This is my second time around. I know what to expect. I know what to do. At a young age, my senior year, I didn't really know how to handle that. I just have to be me at the end of the day."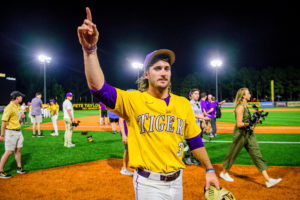 Crews had a smooth transition to the college level. He hit .356 with 27 doubles, six triples, 40 home runs and 114 RBIs in 594 at-bats as an underclassman at LSU.
Scouts rave about Crews' well-rounded toolset. The 6-foot, 205-pound five-tool center fielder uses a quick right-handed swing to drive the ball with authority to all fields. He is an above-average hitter with above-average power and notable strike zone awareness.
Crews is an exceptional offensive player. The ball jumps off his bat, including against high-level pitchers with premium velocity.
"Learning how to use my eyes the past 1 1/2 has been tremendous," Crews said. "Really, just learning how to see the baseball first, recognizing the pitches, and swinging at strikes and taking balls (has helped). I have really improved on my hitting, and I think it will only get better."
Defensively, Crews has experience playing center field and the corner outfield spots. After starting in right field as a freshman, Crews moved over to center field last year. He will be LSU's starting center fielder this season.
Crews is a quality athlete with above-average arm strength. He moves well in the outfield and takes quality routes to the ball. Scouts believe Crews can stick in center field in the future, with right field as a fallback option.
"I really want to stay in center field," Crews said. "My outfield (development) has been tremendous. It has just been awesome. I think all parts of my game have developed into a whole nother level."
Crews headlines the most talented roster in college baseball this season. LSU coach Jay Johnson was extremely active in the offseason. He added high-profile players via the transfer portal, including ace right-handed pitcher Paul Skenes from Air Force and slugging third baseman Tommy White from North Carolina State. The Tigers also brought in the top recruiting class.
The Tigers are the consensus No. 1 team in college baseball, with national title or bust expectations. Most expect the Tigers to reach the College World Series in Omaha, Nebraska, for the first time since 2017. They are seeking their seventh national title in program history.
"We are not going to deal with egos," Crews said. "We pushed the egos to the side and had everyone come together as one. I think what is special about this group is the team chemistry and the ability to hold each other accountable. We go about our business, not really listening to the outside noise. Understand being No. 1 (that) there is a certain expectation every day. We need to fulfill that expectation every day and hold each other accountable to it."
Read more in-depth stories on top 2023 MLB draft prospects at Baseball Prospect Journal.
Do you enjoy reading Baseball Prospect Journal's draft content? Support our work and become a Patron!
Dan Zielinski III has covered the MLB draft for eight years. He has interviewed 433 of the top draft prospects in that period, including four No. 1 overall picks. Multiple publications, including Baseball America, USA Today, MLB.com, The Arizona Republic and The Dallas Morning News, have quoted his work, while he has appeared on radio stations as a "MLB draft expert." Follow him on Twitter @DanZielinski3.