Gonzaga pitching coach Brandon Harmon raves about Gabriel Hughes' work ethic and desire to succeed in everything he does. In his first two years, Hughes strived to be a difference-maker as a two-way player, serving as Gonzaga's top starting pitcher and first baseman on the days he didn't pitch.
But Hughes' sophomore season ended prematurely due to an injury last year. He fractured a bone in his hand during an at-bat against Washington State on April 27. The injury caused Hughes to make just 10 starts on the mound last season.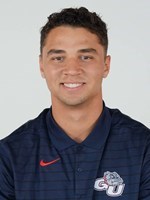 After the season ended, Hughes sat down with Gonzaga head coach Mark Machtolf for his exit meeting. Machtolf asked Hughes about his desire to remain a two-way player. Hughes realistically knew his future was on the mound, and Machtolf agreed.
The decision to focus exclusively on pitching will likely pay dividends for Hughes this season. The right-hander is the ace of the Gonzaga pitching staff and already one of the top arms in the country.
Hughes has the intangibles, repertoire, and makeup scouts seek in a starting pitcher. Scouts believe Hughes will shoot up MLB draft boards this spring with his full attention on pitching. Scouts project Hughes as a likely first- or second-round pick in this year's draft.
"I'm not going to lie, it's surreal," Hughes said. "It is really weird because coming from Idaho, my mindset was to have fun playing baseball for as long as it lasts, get an education and go to medical school once I was done. I wasn't staking my whole future on this. To see everything I have worked for coming to fruition has been incredible."
Hughes has displayed glimpses of his potential in his first 2½ years at Gonzaga. He hasn't pitched an entire season yet, with his first year ending early due to the pandemic and the hand injury sidelining him the final month and a half last season.
Although Hughes has faced some adversity throughout his collegiate career, he has made notable strides since graduating from Rocky Mountain High in Idaho in 2019.
If Hughes continues to evolve on the mound, he likely will be Gonzaga's first first-round pick since left-hander Marco Gonzales went 19th overall in the 2013 draft.
"If you told me he was going to be a first or second-rounder, I might have thought that was a little bit ambitious," Harmon said. "He's a guy during the recruiting process we were really excited about. We envisioned him as a cornerstone-type player in our program and knew he was going to be a good pro prospect."
Hughes posted a 0.77 ERA with 13 strikeouts and six walks allowed in five games (one start) in 11 2/3 innings as a freshman in 2020.
Last season, Hughes posted a 3.23 ERA with 67 strikeouts and 30 walks allowed in 61 1/3 innings.
Expectations are high for Hughes this season. The 6-foot-4, 225-pound right-hander primarily relied on a highly effective fastball, slider combination last season. But Hughes knew that he needed to develop a quality third offering to take the next step in his development.
In the offseason, Hughes primarily worked on his changeup. Hughes has confidence in his newly-developed changeup and believes he will throw it consistently this spring.
"I am much more confident with my changeup compared to where I was last year," Hughes said. "If I had been asked to throw one last year, I would have been really nervous. I am much more confident in throwing it now to lefties, righties and in any count. I am really excited about it going forward."
He throws a four-seam fastball, two-seamer, slider, changeup and curveball from a three-quarters arm slot and low-effort delivery.
Hughes' top pitch is his above-average 94-97 mph fastball. His high-80s wipeout slider is a quality strikeout pitch. After relying on those two pitches most of the time last year, Hughes plans to incorporate his changeup and curveball, which is also a developing pitch, this season.
Hughes has all the traits to be a starter in pro ball. This season, he hopes to refine his command and limit the number of walks he allows.
"I think he is a winner, and he makes people around him better," Harmon said. "He is a really high-level competitor. He is a good teammate. I think he will continue to get better and better. He's a high achiever. In every facet of his game, it's important for him to be good at things. It's fun to be around."
Hughes is a tremendously talented player who aspires to play in the pro ranks in the future. But right now, he remains focused on leading Gonzaga to its second consecutive NCAA tournament appearance this season.
The Bulldogs have qualified for the NCAA tournament 11 times in their program's history. This year's team has a chance to add to that number. They feature a deep pitching staff headlined by Hughes, with potential draft picks in right-handers William Kempner and Trystan Vrieling also in the rotation.
The number of quality pitchers on their team has the Bulldogs optimistic about their chances to qualify for the postseason and potentially win an NCAA tournament regional this season.
"Our strength this year is going to be our pitching staff," Hughes said. "That is going to be key to getting us back to a regional. We have some incredible pitchers. We are going to have a really good chance if everyone stays healthy. Once we get settled down as a team and into a rhythm, we are going to be dangerous."
Read more in-depth stories on top 2022 MLB draft prospects at Baseball Prospect Journal.
Do you enjoy reading Baseball Prospect Journal's draft content? Become a Patron!
Dan Zielinski III has covered the MLB draft for seven years. He has interviewed 356 of the top draft prospects in that period, including four No. 1 overall picks. Multiple publications, including Baseball America, USA Today, MLB.com and The Arizona Republic, have quoted his work, while he has appeared on radio stations as a "MLB draft expert." Follow him on Twitter @DanZielinski3.