Jaden Woods is back in a role he grew accustomed to as a Georgia prep star. The left-handed pitcher was a starter growing up but began his college career as a multi-inning reliever. After pitching out of the bullpen in his first two years, Woods is the ace of the Georgia pitching staff this spring.
Woods flashed his potential as a starting pitcher in his second appearance of the season on Feb. 24. He threw 4 2/3 shutout innings, striking out 11 batters and allowing one hit and one walk.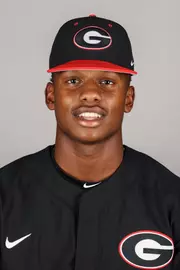 Expectations are high for Woods this season. Besides his role as Georgia's top starter, he also is a well-regarded prospect for July's MLB draft. Scouts are intrigued by Wood's potential and believe he could be an early-round pick if he performs well this season.
"I have been working towards this since I started playing baseball," Woods said. "It means a lot. It's not nerve-racking, but it is crazy to think that the draft is only a couple of months away."
Woods is a 6-foot-2, 205-pound left-hander who throws a four-seam fastball, slider and changeup from a three-quarters arm slot and athletic delivery.
In previous seasons, he relied heavily on his fastball. It touches the mid-90s and features quality movement that allows him to generate swings and misses.
This season, Woods wants to mix in his slider and change up more consistently.
His slider is a hard-breaking pitch with potential. He made strides with the pitch in the offseason to the point where it projects as a quality strikeout pitch moving forward. He needs to continue to refine his changeup to make it a reliable third pitch.
"My ability to dominate hitters with my elevated fastball while also flashing a secondary pitch is key for me," Woods said.
Woods is a talented lefty with the ability to pitch in numerous roles. In his first two years, he posted a 4.70 ERA with 133 strikeouts and 57 walks in 107 1/3 innings. Only five of his 42 appearances came as a starting pitcher as an underclassman.
Despite his limited track record as a starter at the college level, he has intriguing potential. Woods needs to use his secondary pitches more consistently this season to take a step forward in his development. He also wants to show refined command and control of his pitches.
"I need to have confidence with my secondary pitches," Woods said. "A big thing for me is telling myself I can throw them. In the earlier years, I would be 50-50 minded about throwing it rather than being devoted to the pitch and throwing it across the plate."
Woods will play an important role for Georgia this season. The Bulldogs posted a 35-20 record and qualified for the NCAA Tournament last season after falling short of the tournament in 2021.
Georgia has a talented roster this season, featuring solid veteran hitters and a promising pitching staff. The Bulldogs hope to return to the NCAA Tournament and win their first regional since 2008.
"My freshman year, when we missed the NCAA Tournament, it hurt," Woods said. "We carried a chip on our shoulder. We have to keep going this year. Give it our all every single day and not go through the motions. We have to have good team camaraderie and feed into the culture we have built here."
Read more in-depth stories on top 2023 MLB draft prospects at Baseball Prospect Journal.
Do you enjoy reading Baseball Prospect Journal's draft content? Support our work and become a Patron!
Dan Zielinski III has covered the MLB draft for eight years. He has interviewed 433 of the top draft prospects in that period, including four No. 1 overall picks. Multiple publications, including Baseball America, USA Today, MLB.com, The Arizona Republic and The Dallas Morning News, have quoted his work, while he has appeared on radio stations as a "MLB draft expert." Follow him on Twitter @DanZielinski3.