Riley Frey didn't have many expectations when he first joined the Milwaukee Panthers baseball program in fall 2020. The Oshkosh, Wisconsin, native was coming off a shortened senior season due to the pandemic and knew transitioning to the college game would take some time.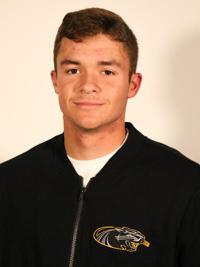 Frey quickly grew comfortable on a college mound. He was a full-time starting pitcher during his freshman season in 2021 and developed into the team's ace over the last two years with the Panthers.
The left-handed pitcher made strides in his development and performed consistently each season, earning second-team All-Horizon League honors each year. His performance and potential have caused Frey to receive interest for July's MLB draft.
If Frey is drafted, it will mark the second consecutive year the Panthers have had a pitcher selected in the draft. Righty AJ Blubaugh was a seventh-round pick by the Houston Astros last year.
"I have talked to a few teams," Frey said. "I'm not sure where I stand with it and not really concerned with it at the moment. But hopefully, the draft works out."
Frey is a 6-foot-1, 185-pound left-hander that throws a four-seam fastball, two-seamer, slider, changeup and curveball from a three-quarters arm slot and up-tempo delivery. He likes to work quickly and attack the strike zone with all his pitches.
His fastballs experienced a slight uptick in velocity and sit more in the low-90s this season compared to the high-80s last year. His fastball touched 93 mph this spring. Frey likes to attack left-handed hitters with his two-seamer and righties with his four-seamer.
Frey's slider is a strikeout pitch. It features sweeping action and depth, making it difficult for hitters to square up when locating it well. He altered his slider grip in the offseason, leading to more success during his junior season.
Frey also mixes in his changeup and curveball. Both are developing offerings, with his curveball more of a get-me-over pitch right now.
"My ability to throw strikes, work fast and be durable are my biggest strengths," Frey said. "I can go pretty deep into games and have shown that here at Milwaukee."
This offseason, Frey is on a temporary contract with Orleans in the Cape Cod League. He also will likely pitch in the Northwoods League after his temp contract is up, he said.
Frey anticipates throwing about 35 innings between the two leagues and pitching until July 4, he said. If he doesn't start a pro career next month, he will then shut down for the summer and focus on weight training.
While playing summer baseball, Frey hopes to see growth in his command and control of his pitches.
"I want to overemphasize pounding the low strike zone," Frey said. "I think sometimes my stuff was left up, and that's when I get hit. I've really tried to hone in on that because I know then I will be more successful."
In his three years, Frey has been a fixture in Milwaukee's starting rotation. He posted a 4.90 ERA with 87 strikeouts and 38 walks allowed in 90 innings this season. He has a 4.23 ERA with 239 strikeouts and 99 walks allowed in 249 innings across his college career.
Frey has made notable improvements throughout his three years. As he prepares for the draft, Frey offers intriguing potential as a starting pitcher at the next level. If he starts a pro career this summer, he needs to enhance his fastball and develop a consistent third pitch to remain a starter long term.
"I have developed a ton at Milwaukee," Frey said. "Coming in, I didn't know where I would stand with COVID and being a naive freshman. I learned what I needed to be successful in my second and third years.
"It has always been a goal of mine to play professionally. Once I had success my freshman year and realized I could get guys out at this level, that is when I was all in and wanted to invest as much as I could in baseball."
Read more in-depth stories on top 2023 MLB draft prospects at Baseball Prospect Journal.
Dan Zielinski III has covered the MLB draft for eight years. He has interviewed 433 of the top draft prospects in that period, including four No. 1 overall picks. Multiple publications, including Baseball America, USA Today, MLB.com, The Arizona Republic and The Dallas Morning News, have quoted his work, while he has appeared on radio stations as a "MLB draft expert." Follow him on Twitter @DanZielinski3.