Wyatt Langford was a relatively unknown player entering his sophomore season at Florida after having just four at-bats in his freshman year in 2021.
The lack of experience didn't hinder Langford last season, however. Langford moved into the starting lineup and blossomed into one of the top players in college baseball.
Langford showed an impressive skillset at the plate, hitting .356 in 66 games at Florida last season. He continued his high level of play with USA Baseball's Collegiate National Team during the summer.
Langford's development and performance over the last year have caused him to gain notoriety in anticipation of the 2023 MLB draft. Scouts project the Florida outfielder as a potential top-10 pick in the 2023 draft.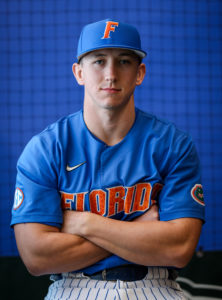 "I try not to focus on that stuff, but it is even more motivating just to continue what I am doing," Langford said. "I strive to be my best and the best overall."
Scouts rave about Langford's ability at the plate. The 6-foot-1, 210-pound right-handed hitter has a quiet setup and smooth swing that allows him to impact the baseball consistently. He uses all parts of the field and hits for average and respectable power.
It took time for Langford to get acclimated to college pitching. But he quickly settled in and showed his ability last season. He batted .356 with nine doubles, three triples, 26 home runs and 63 RBIs in 303 plate appearances. He showed solid plate discipline, with 44 strikeouts and 36 walks.
Langford tied Florida's single-season home run record while leading the Southeastern Conference in homers last season. He enters his junior season as one of the best hitters in college baseball.
"The middle point of the season last year is when I realized I could perform at this level," Langford said. "In the first half, I was just excited to be out there playing. As the season started going and as we started SEC play, I succeeded. It opened up my eyes a little bit to where I realized I could be the best and compete with the best."
Langford, a Florida native, played catcher and third base in high school. About midway through the fall baseball season last year, the Florida coaching staff moved him to the outfield, somewhere he had never played.
Last year, Langford started all 66 games in left field while regularly taking fly balls in all three outfield spots. He believes he can play center field long term due to his athleticism and arm strength.
"I am more comfortable in center field," Langford said. "The corners have some tougher reads with the top spinners and the ones that tail away from you really hard."
The Gators begin fall practice on Oct. 9. They have made 14 consecutive postseason appearances and are coming off a 42-24 record and NCAA Regional appearance.
The Gators haven't advanced past the first weekend of the NCAA tournament since 2018, when they went to the College World Series. They will try to snap that streak in 2023. Most consider the Gators as one of the best teams in the country entering the spring, as they return plenty of depth and overall talent, headlined by Langford.
"This season, we have a lot of competition all over the field," Langford said. "We are excited to compete against one another and make each other better as we prepare for the season."
Do you enjoy reading Baseball Prospect Journal's draft content? Support our work and become a Patron!
Dan Zielinski III has covered the MLB draft for eight years. He has interviewed 433 of the top draft prospects in that period, including four No. 1 overall picks. Multiple publications, including Baseball America, USA Today, MLB.com, The Arizona Republic and The Dallas Morning News, have quoted his work, while he has appeared on radio stations as a "MLB draft expert." Follow him on Twitter @DanZielinski3.