Carter Jensen scouting report by Baseball Prospect Journal Regional Scouting Supervisor Blaine Peterson.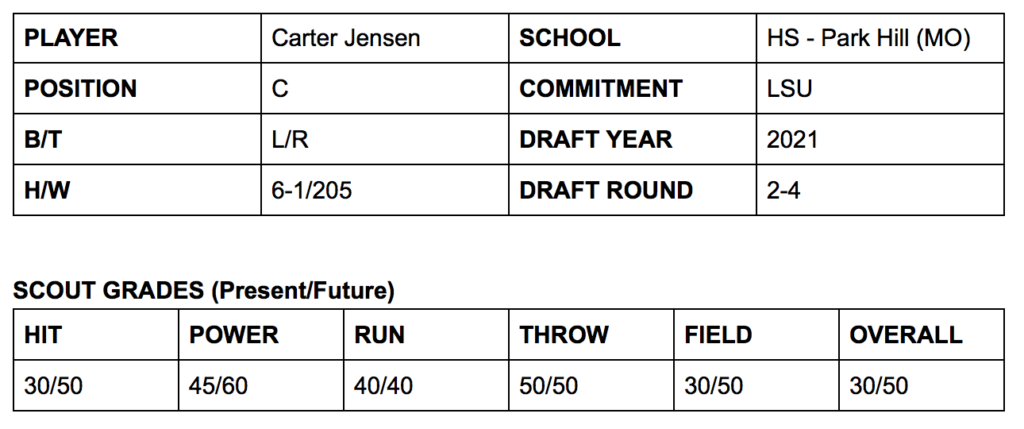 HIT: A carrying tool at the catcher position. Carter has been a consistent performer with the bat and has hit at all major showcase events. Hits from a tall stance with a medium base and modified toe tap. He does a good job of having his back elbow lead to backside rotation and staying square to a contact point. Recognizes fastball well and has the bat speed to handle velocity at higher levels. At times will be off-balanced on breaking pitches leading to front side rollovers. Overall he has the ability to hit the baseball to all fields without significant swing-and-miss concerns.
POWER: Another carrying tool at any position. Jensen has the power potential to hit in the middle of a lineup. Since the fall of his junior year, he's shown true power, hitting home runs on big-league size fields, including an opposite-field home run at PG National this summer. He has the strength, bat speed, and vertical bat angle in his swing to generate power to all fields. Ball really jumps off of his bat. His development in pitch recognition will determine how often he can get to that power going forward.
RUN: Ran a sub 7.00 60-yard dash and runs well for a catcher. However, as he adds strength and begins to catch significant innings, he is likely to slow down. Won't be a base-clogger, but his impact on the bases will come in the form of going first to third on batted balls and not stolen bases.
THROW: Has recorded several sub-2.0-second pop-times and may very well develop a plus throwing arm. Gets to a throwing position quickly and throws with above-average velocity and accuracy enough to control a running game.
FIELD: Receiving skills have taken a significant leap in the last year while catching more advanced pitching. Pretty athletic behind the plate overall, moves laterally well and does a good job of getting his body into position to block balls in the dirt. He's a solid performer back there, won't stand out but won't be a liability either.
SUMMARY: A bat-first catcher that also possesses significant defensive skills. If he sticks at catcher in pro ball, he will have two carrying tools (Hit/Power). Those tools make him easy to project as a future middle-of-the-order bat. Above-average hitting ability and potential plus left-handed power from the catcher position gives Jensen a skill set to be a high pick in the MLB draft if a team can sign him away from his commitment to LSU.
Learn more about Carter Jensen via a feature story on Carter Jensen by Dan Zielinski.