Jacob Misiorowski scouting report by Baseball Prospect Journal Regional Scouting Supervisor Blaine Peterson.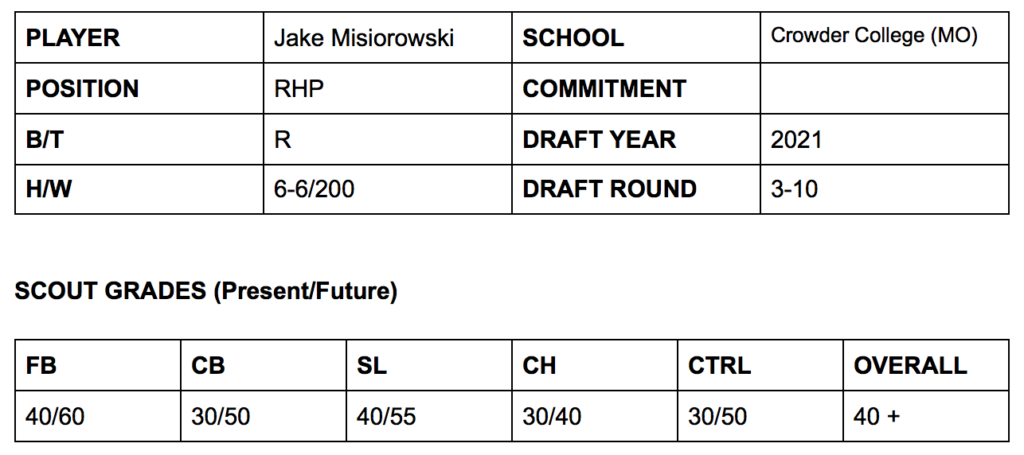 FASTBALL: Jacob Misiorowski throws a two-seam fastball with good arm side run at 88-91 mph. He also throws a four-seam fastball at 91-93 and has hit 95 with an above-average spin rate. He uses the four-seam fastball up in the zone as a strikeout pitch and has the frame to add velocity while maintaining solid command of both fastballs.
CURVEBALL: His curveball has 11-5 shape with good separation from his other breaking pitch (slider). It has some plus spin measurements but is inconsistent at times. It could become an above-average pitch and potentially be tunneled with the four-seam fastball to maximize effectiveness with refinement.
SLIDER: Best present breaking pitch and a potential plus-pitch thrown in the mid-80's. It has a significant late, horizontal break with a significant, consistent spin. He has solid command of the pitch already and shows an ability to use the pitch to righties and lefties. Locates the pitch down and away to right-handed hitters and as a backfoot breaking pitch to lefties. The pitch gives him a good present swing-and-miss pitch to project going forward, and a good complimentary pitch to work with off of his two-seam FB.
CHANGEUP: It is a work in progress pitch with a decent fade to start with. He doesn't use his changeup often in games, but it will be a pitch to follow the progress of in the upcoming JUCO season as he develops under a good Crowder College coaching staff.
CONTROL: Looked to be just getting everything in sync and making strides as a strike-thrower before the 2020 spring season ended. Command of the fastball was really starting to improve in the fall of 2019 when he was consistently locating four-seam and two-seam fastballs. Does a good job of throwing his slider to both sides of the plate, but tends to overthrow the pitch and lose control of it at times. Curveball is developing, but the inconsistent spin on it can lead him to spiking the pitch.
SUMMARY: Misiorowski has the present size, strength and frame to suggest that he'll be a projectable RHP. He has a very good feel for two pitches presently with a two-seam fastball that ranges between 88-91 consistently and a slider that shows good sharp late break and is his best current swing-and-miss offering. The curve currently is behind the other two offerings, especially in terms of command (it's almost as though he tries to overspin the pitch). However, it does have a noticeably different shape than his slider. That gives the pitch hope taht he can develop it in the future since the breaking balls do not blend and get slurvy.
Currently starts from the left side of the mound with a high full leg kick and a directional fluid delivery to the plate coming from a three-quarters arm slot. Pretty good athleticism on the mound, fields his position well, and has quick reactions.
Overall, he has a good feel for two pitches, with the potential to develop a third pitch in his curveball. His pitch arsenal, projectable frame, delivery, and ability to make adjustments suggest he has a future as a potential starter as he enters the minor leagues.
Video of Jacob Misiorowski courtesy of Blaine Peterson