Alex Binelas is the last highly-regarded MLB draft prospects from the state of Wisconsin. The former Oak Creek High School star and current University of Louisville third baseman is a potential top-10 pick in July's draft.
In recent years, Wisconsin has produced numerous early-round draft prospects and a plethora of NCAA Division I baseball players.
Former Kenosha Indian Trail High shortstop Gavin Lux was the 20th overall pick by the Los Angeles Dodgers in 2016, and former Waukesha West outfielder Jarred Kelenic was the sixth overall pick by the New York Mets in 2018. University of Wisconsin-Milwaukee catcher Daulton Varsho of Marshfield was a second-round pick by the Arizona Diamondbacks in 2017.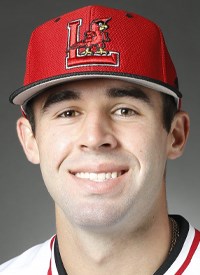 Binelas likely will follow in the footsteps of Lux, Kelenic, and Varsho when the 2021 draft begins in July.
"It's unbelievable, and it's great to see the talent that is coming from Wisconsin," Binelas said. "Being from the north, you hear about how you aren't as good as the guys from Georgia, Florida, Texas, California. We always have that little chip on that shoulder.
"I think the recent success that Wisconsin has seen is based on the new facilities and the indoor facilities that have come up. That's allowed us to get live reps all year round, which was previously the difference from the southern states. Now that Wisconsin has that. I think that is allowing for a lot more success to come out. Wisconsin is a baseball hotbed now. A lot of people are going to Wisconsin for baseball players."
This is the second time Binelas is going through the draft process. Professional scouts projected Binelas as a potential top-five-round pick in the 2018 draft. Binelas "received a couple of calls" in the third round but "wasn't going to settle" when it came to the signing bonus dollar amount he sought, he said. The Washington Nationals selected Binelas in the 35th round of the 2018 draft, but Binelas already had his sights set on Louisville.
The decision to attend a premier college baseball program has paid off for Binelas. Over the last two years, Binelas has refined his skills and enhanced his draft value. His junior season in the spring will be a crucial year for Binelas as he tries to cement his status as one of the upper echelon 2021 draft prospects.
"It's cool reading the articles and whatnot," Binelas said. "When I came to Louisville, I wanted to win a national championship and be a first-round draft pick. Both of those goals are doable at the end of this year. I still have my entire junior season to play and get better. It is cool reading about my draft status, but you can't rely on that. I can't take my foot off the peddle and have to keep working hard."
Binelas started immediately as a freshman at Louisville in 2019. He hit .291 with 14 doubles, five triples, 14 home runs and 59 RBIs in 59 games.
Expectations were high for Binelas after his freshman All-American season. But in Louisville's second game of the season this spring, Binelas exited the contest with a hamate injury to his right hand.
That marked the end of Binelas' sophomore season, as the college baseball season ended prematurely due to the COVID-19 pandemic.
Binelas missed nearly five weeks recovering from the hamate injury. But once he was fully healthy, he ramped up his offseason program. He spent most of his time at Hitters Baseball Academy in Caledonia, working with founder and president R.J. Fergus before returning to Louisville in July.
Binelas attended Hitters Baseball Academy in high school and credited the program for his readiness for college. This offseason, Binelas worked on all aspects of his game, including taking 500 swings per day. He also worked on his speed and fielding.
Binelas credits his success in his first two seasons at Louisville to the training he received at Hitters Baseball Academy.
"R.J. is a great guy. He can come off to some people as a little aggressive, but the kids need that because once you get to the college level, not everything is going to be handed to you," Binelas said. "R.J. teaches that philosophy from a young age that you have to come in and work hard and do your job. He just prepares the baseball players for the next level, so they have success in high school and ready for college. I just felt ready when I got here."
Binelas is a 6-foot-3, 220-pound third baseman who has a short, compact left-handed swing and sound mechanics at the plate. He consistently squares up the ball and drives it to all parts of the field. His top trait is his above-average power.
"My ability to drive the ball to all parts of the field is the biggest part of my game," Binelas said. "Just being able to take an outside fastball and not feeling like I have to pull it over the right-field fence. I can trust my hands, stay back, and drive the ball over the left-field fence. That is the biggest change I have made from high school to college is driving the ball to all fields."
Defensively, Binelas should stick at third base long-term. He has solid footwork and the arm strength to play third base. He also has respectable speed. He recorded a 6.60-second 60-yard dash at Louisville's pro day this fall.
Binelas' arm strength and athleticism would likely allow a major-league team to project him in various defensive positions.
"The thing I am most proud of with my game is my speed," Binelas said. "My speed can separate me from others. I love to do speed work. That is my sleeper skill, I like to call it. I am athletic, giving me all the opportunity to play the outfield and play any position I can with that speed. It just betters my chances to play at the next level."
Binelas recorded 48 strikeouts compared to 27 walks in 243 plate appearances in 2019. While Binelas is working on all aspects of his game, he has focused on improving his plate discipline. He hopes his offseason work and experience against college pitching will help him improve his plate discipline this spring, he said.
"Now, with being a junior and having that experience seeing those Friday night starters with the 96 mph fastball with a dirty breaking ball, I think the strikeout-to-ratio is the main thing I want to cut down on and improve on," Binelas said.
Expectations are high for Louisville this spring. The Cardinals have a plethora of talent, especially when it comes to 2021 draft prospects. Besides Binelas, catcher Henry Davis, outfielder Levi Usher, right-hander Jack Perkins, left-hander Michael Kirian, and right-hander Jared Poland also are early favorites to go in the first five rounds of July's draft.
Louisville has qualified for the NCAA tournament eight straight years and appeared in the College World Series two of the last three years. Binelas hopes the Cardinals can capture the program's first national title in 2021.
"If you are coming to Louisville, you know you are competing for a national championship," Binelas said. "With the talent, we have coming back and with guys just busting their butts every day to get better, a national championship is where we want to be at the end of the year. I think that is the vibe this year."
Read more in-depth stories on top 2021 MLB draft prospects here.
Dan Zielinski III has covered the MLB draft for six years. He's interviewed 253 of the top draft prospects in that period, including three No. 1 overall picks. Multiple publications, including Baseball America, USA Today, MLB.com and The Arizona Republic, have quoted his work, while he's appeared on radio stations as a "MLB draft expert." Follow him on Twitter @DanZielinski3.