Clint Coulter steps into the right-handed batter's box at Sioux Falls Stadium. He awaits the first pitch of the at-bat as the sparse crowd scattered throughout the nearly 4,500-seat ballpark observes.
Coulter has grown accustomed to this routine. His first seven years of professional baseball consisted of him traveling on bus to small towns hidden throughout the United States to play in identical atmospheres.
Eight years ago, the once promising high school catcher from Washington was a first-round pick by the Milwaukee Brewers. He never thought playing in minor-league ballparks would become a yearly tradition. He expected to soar up the minor-league ranks and be an integral part of the Brewers' roster sooner than later.
Coulter never would have pictured himself where he is today. After seven seasons in the Brewers' minor-league system, Coulter is trying to rejuvenate his career in the American Association of Independent Professional Baseball. He could have remained in affiliate baseball but an opportunity to play consistently didn't exist, he said.
Electing a new path was the only route Coulter believed would keep his chances alive of one day playing in the major leagues. He remains confident he can accomplish that goal but understands it's not as easy as it once appeared.
"I want to get back to affiliate baseball at some point in my career," Coulter said. "There are teams that like me, but they obviously like me as a minor-leaguer. I have to prove to teams that I'm ready to play in the big leagues, and get that opportunity to show them."
Shawn Whalen recalls Coulter playing Little League baseball at 9 years old. Coulter played with Whalen's three sons growing up and was like Whalen's "fourth son," Whalen said.
The familiarity helped Whalen once Coulter reached high school. Whalen, an area scout for the Brewers, knew Coulter had the intangibles and makeup to play in the professional ranks, and Coulter's strength and "ability to make loud contact from a young age" grabbed his attention.
"He was one of those guys that was extremely gifted from the time he walked out onto the field to today," Whalen said.
In 2012, Coulter batted .517 with four home runs, 18 RBI and 18 stolen bases as a senior at Union High School in Washington.
Coulter's team played just 14 games his senior year due to weather, which hindered major-league evaluators from receiving an extensive look at him.
In preparation for the draft, Coulter worked out for the Brewers, Minnesota Twins, St. Louis Cardinals, San Diego Padres, Seattle Mariners and Los Angeles Dodgers.
The Brewers were the only team throughout his pre-draft workouts to evaluate him in the outfield.
Whalen hoped the 6-foot-3, 200-pound catcher would be available when the Brewers drafted with back-to-back picks late in the first round. With the Brewers' 27th overall pick approaching, Whalen was anxious. The Tampa Bay Rays and Arizona Diamondbacks were ahead of the Brewers and Whalen knew both teams had interest in Coulter.
Both teams went in different directions with their picks, however, leaving Coulter available for the Brewers. Coulter's strong leverage with his right-handed swing, above-average raw power and solid pitch recognition intrigued the Brewers.
"We just dove in early and were very aggressive," Whalen said. "Bruce Seid, our scouting director, loved Clint. When you are picking where we picked, you are looking for high-ceiling guys that if they figure it out, you are going to get the bang for your buck."
Coulter attended the draft at MLB Network's Studio 42 in Secaucus, New Jersey. He bypassed his commitment to Arizona State and signed with the Brewers four days after being drafted for a $1.675 million signing bonus. He also received an additional $150,000 to use towards a college degree.
It was a life-altering moment for Coulter, who assumed his skills at the plate would allow him to ease through the minor leagues and into a Brewers' uniform.
"When you're that young, you think you're going to be in the majors in a year and a half," said Coulter laughing. "You quickly learn that you are playing against men and it's an adjustment."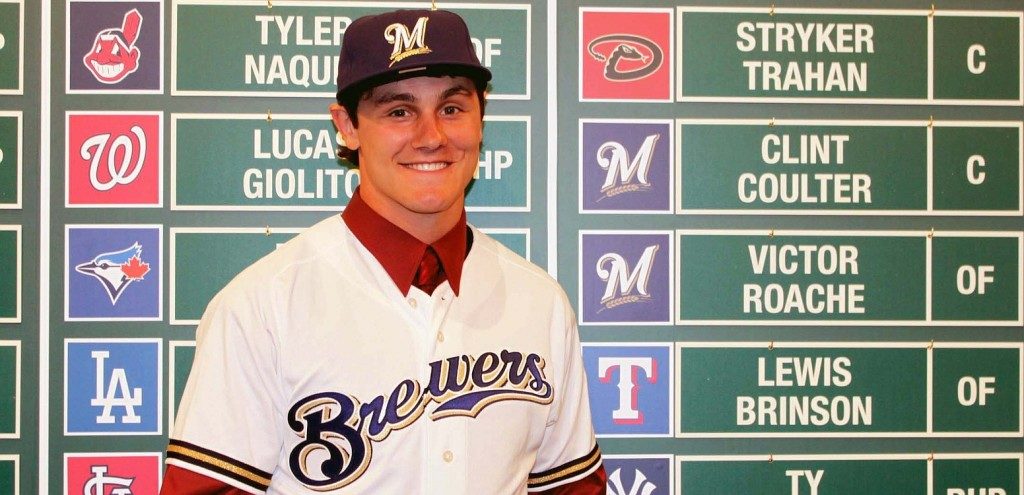 The Brewers sent the newly-signed Coulter to Arizona for rookie ball where he hit .303 with five home runs and 33 RBIs in 49 games.
Coulter's success at the plate didn't extend into his first full season in the pro ranks, though. He batted .207 with three homers and 13 RBIs in 33 games at Class A Wisconsin before suffering an oblique strain. The Brewers then optioned Coulter down to rookie-level Helena where he posted a .216 batting averaging before being demoted to rookie ball in Arizona.
He only had 282 plate appearances in an injury-plagued 2013 season. After the oblique strain, Coulter dealt with a strained medial collateral ligament, an adductor strain, a bone bruise in his left hand and a cartilage tear in his right hand, which required surgery.
Coulter put the disappointing season behind him in 2014. He was healthy and thrived in 126 games at Class A Wisconsin. He hit .287 with 22 home runs and 89 RBIs. His notable performance at the plate earned him the Brewers' Minor League Player of the Year award.
His offensive production caused the Brewers to reevaluate Coulter's defensive position. They wanted him to move through the minor leagues quickly and thought a switch to the outfield would accomplish that task.
Coulter knows he could've made it to the major leagues as an offensive-minded catcher. But Jonathan Lucroy was in the midst of a MVP-caliber season and appeared to be the Brewers' long-term plan behind the plate.
Coulter wanted to play in the major leagues as quickly as possible and trusted the Brewers' judgment.
"Hindsight is 20/20, maybe I should've stayed at catcher, but I kind of was indifferent," Coulter said. "I didn't know as a 20-, 21-year-old. I was just kind of going with the flow. My legs definitely thanked me, though."
Whalen agrees that Coulter had the tools to stick at catcher, especially since defense isn't as highly valued as it once was at the major-league level.
"Looking back, I wish we would've at least caught him twice a week," Whalen said. "Kept it in his hip pocket because look at the game today, you have a lot of guys who are there for their bat and they catch."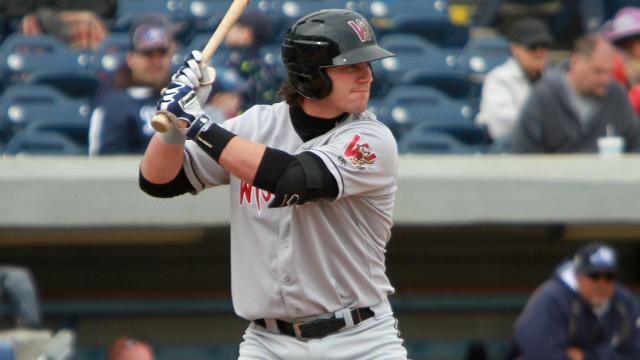 Coulter didn't develop like the Brewers anticipated after the 2014 season. He showed glimpses of his potential but spent the next four years mostly in Class A-Advanced and Class AA. He only played 13 games at Class AAA, which came late last season.
His lack of consistency caused other prospects to pass him on the organizational depth chart. The Brewers extended him a minor-league contract after last season, but Coulter declined the offer since he wasn't guaranteed consistent playing time, he said.
"It's a business," Coulter said. "It also has made me a lot better. I've had to adjust and adapt to certain things. I think I am better for it. Everyone's path is different. I'm just working on finding my way."
Coulter is trying to change the direction of his career. He signed with the Sioux Falls Canaries of the American Association of Independent Professional Baseball in the offseason to gain every day at-bats and refine his approach at the plate.
Coulter is only 25 years old and his intangibles intrigued the Canaries. They understood their might be growing pains, especially as they've tried to revamp his mechanics at the plate.
When Canaries coach Mike Meyer watched film of Coulter as they pursued him in the offseason, he noticed Coulter hit off his front foot. Meyer instantly thought of former Canaries outfielder Beau Torbert, who had a similar build as Coulter and hit off his front foot before playing in Sioux Falls from 2008-10.
Torbert adjusted well to the mechanical changes and won two league player of the year awards in his three years with Sioux Falls.
The hope is Coulter can have similar success to Torbert. Coulter is trying to hit behind the baseball so he's not as susceptible to off-speed pitches, generate a better launch angle and drive pitches.
"Clint is one of those players who has all the tools," Meyer said. "He just has to figure out how to use all of those tools as efficiently as possible."
Meyer believes Coulter's ceiling is still high. Meyer has been impressed with how Coulter has embraced advice and adjusted throughout the first 28 games of the season.
Early in the year, Coulter struggled with the mechanical changes. But since the beginning of June, Coulter has made strides at the plate. He's hitting .298 with seven doubles, five home runs and 20 RBIs in 114 at-bats this season.
Coulter isn't giving up on a major-league career, even if the odds aren't in his favor.
In Whalen's nine years as a scout with the Brewers, Coulter is the only first-round pick he's been the signing scout for. It amazes Whalen that Coulter didn't reach the majors with the Brewers. He still thinks back to scouting Coulter and regularly wonders what went wrong, Whalen said.
Whalen said Coulter needs to prove to teams that he can dominate against his peers. He also admits Coulter needs some luck. Even though Coulter's career is in an unexpected place, Whalen isn't give up hope that Coulter could reach the big leagues one day.
"I know he didn't make it for us, but he did some other things along the way that sure made me proud," Whalen said. "I'm glad he's still playing, and I hope he gets another chance."
Dan Zielinski III has covered the MLB draft for five years. He's interviewed 191 of the top draft prospects in that period, including three No. 1 overall picks. Multiple publications, including Baseball America, USA Today and The Arizona Republic, have quoted his work, while he's appeared on radio stations as a "MLB draft expert." Follow him on Twitter @DanZielinski3.