Gavin Lux has been called up by the Los Angeles Dodgers. The 21-year-old Kenosha, Wisconsin native is one of the top prospects in baseball after thriving at Class AA Tulsa and Class AAA Oklahoma City this season.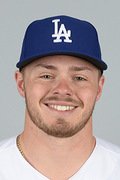 Lux was the 20th overall pick in the 2016 MLB draft and quickly rose up the ranks over the last two years after a mediocre season at Class A Great Lakes in 2017.
The left-handed hitting second baseman/shortstop has displayed tremendous plate discipline this season. He hit .313 with 13 home runs and 37 RBIs in 64 games at Class AA Tulsa. After playing in July's MLB Futures Game, Lux earned a promotion to Class AAA Oklahoma City where he posted a .392 batting average with 13 home runs and 39 RBIs in 49 games.
The Dodgers refused to trade Lux throughout the season. Dodgers manager Dave Roberts recently said the organization was considering calling up Lux with the idea to give him playing time. With Max Muncy out due to a right wrist fracture, Lux likely will see time at second base.
Read a detailed MLB draft feature story on Gavin Lux from 2016 here.