Jackson Rutledge isn't shying away from the MLB draft attention. It's one of the reasons why he transferred to San Jacinto Junior College in Texas after spending his freshman year at Arkansas last season.
The 6-foot-8, 250-pound right-handed pitcher has been nearly unhittable this season. He was a top draft prospect coming out of the Missouri high school ranks in 2017, but bypassed professional opportunities to play at a Division I college baseball powerhouse.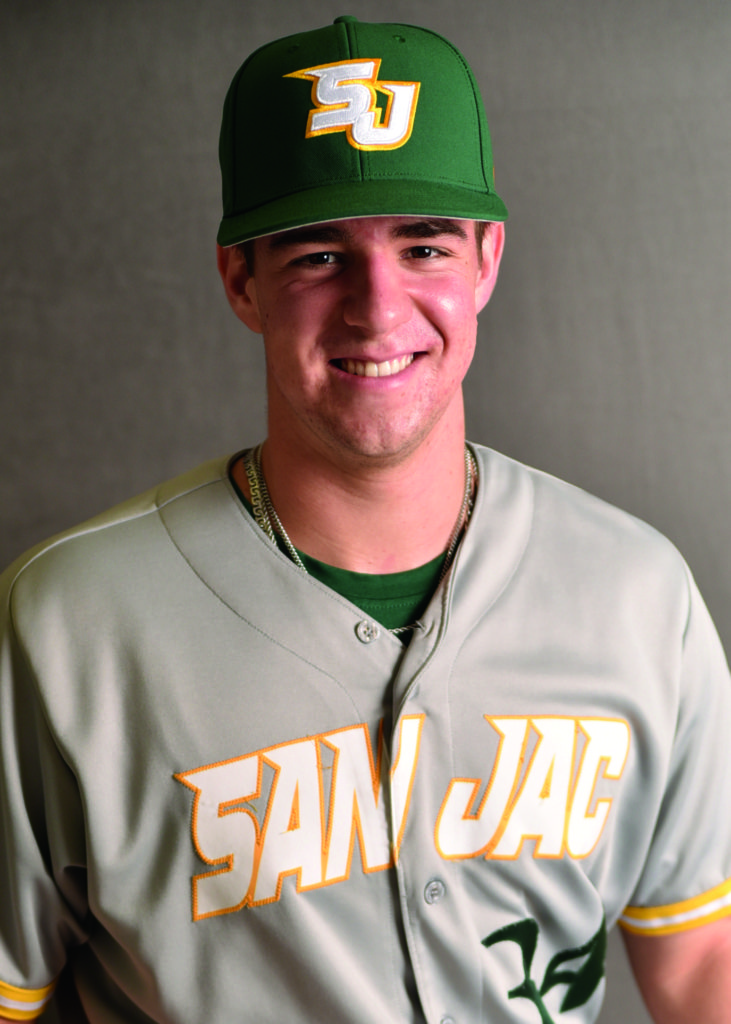 His freshman season at Arkansas didn't work out like he envisioned. But two years after he declined a chance to embark on a pro career, Rutledge likely will be a first-round pick this June.
"It's been my goal to play professional baseball," said Rutledge, a Kentucky commit. "My goal isn't to play college baseball. I want to continue my career, and I think the majority of the people know that's my goal for this year. Right now, it'd be a good experience to play baseball at Kentucky next year. But my first priority is getting to pro ball this year."
Rutledge has a five-pitch mix, featuring a four-seam fastball, two-seam fastball, curveball, slider and changeup. He throws from a three-quarter arm slot with his fastballs sitting in the high-90s.
He added an 86-89 mph slider to his repertoire last summer because he thought it complemented his other pitches well, he said. He generates an impressive spin rate with the pitch and it has developed into his best secondary offering.
His low-80s curveball also has become an above-average offering and features devastating break.
"I think it's the best it's ever been and is really the first time I've thrown this mix of pitches," he said. "I added the slider because of my release angle. I also made the adjustment with my curveball and turned it from being an average pitch to what I think now is a plus pitch."

Refining his command and developing a stronger feel for his pitches, especially his changeup, are his top priorities the rest of his sophomore season. His changeup is an evolving pitch, as he's becoming more comfortable throwing it.
"One thing that bugs me is the noncompetitive pitches," Rutledge said. "The ones that are spiked five feet in front of the plate or are a foot outside or whatever. That's something I'm really trying to cut down. I've cut them down already a lot from last year, and I want to continue to do that."
Arkansas used Rutledge mainly as a reliever last year. As a freshman, Rutledge finished the year with a 3.45 ERA with 14 strikeouts and 11 walks in 15 2/3 innings.
He wasn't on the travel roster, and his last appearance came against Alabama when he walked two batters and threw three wild pitches while failing to record an out on April 29.
Despite the difficult situation he dealt with at Arkansas, he said he learned from Blaine Knight, who was Arkansas' No. 1 starter and drafted in the third round by Baltimore last year.
"I think there's things I can learn from last season with one thing being that I can be my own best coach," Rutledge said. "I have to know myself and be able to look out for myself. Also just being able to compete on that level, as we had one of the best pitching staffs in the country. I learned from those guys and what it takes to be successful at that level."
Rutledge has dominated opposing batters at the junior college level this season. In his first six starts, he allowed two totals runs for a 0.51 ERA in 35 innings. He also tallied 64 strikeouts for a 16.46 strikeouts per nine innings ratio while allowing 12 walks.
"One of my goals is to break the San Jac strikeout record," Rutledge said. "I'm on pace for that. The record is 145. I also want to make myself into a first-round draft pick. I think with what I've done so far, I've put myself in a good spot."
Dan Zielinski III has covered the MLB draft for four years. He's interviewed 133 of the top draft prospects in that period, including three No. 1 overall picks. Multiple publications, including Baseball America, USA Today and The Arizona Republic, have quoted his work, while he's appeared on radio stations as a "MLB draft expert." Follow him on Twitter @DanZielinski3.