Jacob Wilson has been around the game of baseball his entire life. He is the son of former major league shortstop Jack Wilson, who spent most of his 12-year major-league career with the Pittsburgh Pirates.
Wilson recalls different experiences, like throwing out the first pitch before a Pirates game at PNC Park, and advice his father gave him along the way. He grew up with others knowing him as Jack's son. It resulted in lofty expectations and comparisons to his father anytime he stepped onto the field.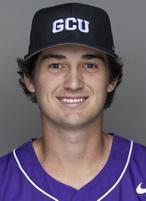 But now, Wilson is forging his own path in the game of baseball. Wilson, a junior shortstop at Grand Canyon University, has a tremendous work ethic, skill set, baseball IQ and passion for the game. Those attributes have aided in his development and rise as a baseball prospect.
Wilson is one of the best players in college baseball and a potential top-10 pick in July's MLB draft.
"It is something I have always dreamed of is really getting to this level of being a draft prospect," Wilson said. "It's something I have worked incredibly hard to get to, and now that I'm here, it is super awesome. I have always wanted to follow in my dad's footsteps and play professional baseball. This is one of the first steps."
Wilson is a 6-foot-3, 190-pound shortstop with a well-balanced toolset. Scouts rave about his game, especially his offensively ability. He has an advanced contact-oriented approach with a notable eye at the plate. He makes consistent hard contact and drives the ball into the gaps.
Due to his mature approach, Wilson rarely strikes out. He hit .358 with 18 doubles, 12 home runs and 65 RBIs in 275 plate appearances. He drew 25 walks and struck out just seven times.
"Growing up, my dad also never loved striking out," Wilson said. "He wanted to be that guy that was competitive in the box. That is something I really took from him. He wanted me to have a two-strike approach and put the ball in play to help my team win. It was built into me from a young age."
Wilson entered college with experience playing second base and shortstop. But as a freshman, he was the team's everyday third baseman. His above-average arm strength, smooth defensive actions and range allowed him to thrive. He then moved back to his natural spot at shortstop last season.
Scouts believe Wilson can remain at shortstop in pro ball. He also profiles as a quality second baseman and third baseman if he has to move off the position.
Wilson spent the offseason adding strength to his frame and improving his speed. He has added about 15 pounds and believes the additional strength will aid him at the plate.
"I believe I'm not even close to where my max strength is right now," Wilson said. "I'm still growing into my body. Now that I am in college, I am taking lifting a lot more seriously. I can get faster too. I have really worked on running form, explosive movements out of the box and stealing bases."
Wilson will anchor GCU's lineup and play a pivotal role in the team's success this spring.
In recent years, Andy Stankiewicz transformed GCU into one of the top mid-major college baseball programs. The Lopes qualified for their first-ever NCAA Tournament at the Division I level in 2021 and earned an at-large bid last season under Stankiewicz's leadership.
After the back-to-back tournament appearances, Stankiewicz moved on to Southern Cal, with Gregg Wallis replacing him as the head coach at GCU. Wallis was an assistant coach under Stankiewicz since 2014. Wallis hired Jack Wilson, who previously coached at Thousand Oaks (Calif.) High School at USA Baseball, as his top assistant.
Expectations remain high at GCU despite the coaching change. Wilson believes this year's team has more talent than the last two years and can make a deeper postseason run.
"We want to repeat all the things we have done in the past, but I don't think we really want to stop there," Wilson said. "We have learned from our mistakes in the past. The last two years, we have been there but haven't won a game. We are focused on getting back to the regional and growing from there."
Read more in-depth stories on top 2023 MLB draft prospects at Baseball Prospect Journal.
Do you enjoy reading Baseball Prospect Journal's draft content? Support our work and become a Patron!
Dan Zielinski III has covered the MLB draft for eight years. He has interviewed 433 of the top draft prospects in that period, including four No. 1 overall picks. Multiple publications, including Baseball America, USA Today, MLB.com, The Arizona Republic and The Dallas Morning News, have quoted his work, while he has appeared on radio stations as a "MLB draft expert." Follow him on Twitter @DanZielinski3.