Patrick Reilly appreciates the importance coach Tim Corbin places on student-athletes growing academically, socially and athletically while at Vanderbilt. Corbin's philosophy was significant in Reilly honoring his commitment to Vanderbilt out of high school despite receiving professional interest.
The right-handed pitcher has made notable strides on the mound in his first 2½ years in the program. It helped his development by learning from co-aces Jack Leiter and Kumar Rocker his freshman year in 2021. The Texas Rangers drafted Leiter second overall in 2021 and Rocker third overall last year in the MLB draft.
Reilly, who has split time between the rotation and bullpen, enters his junior season as the latest Vanderbilt pitcher drawing draft interest.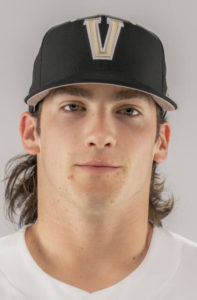 "They were just really professional guys on and off the field with how they handled themselves in school, socially and on the field," Reilly said. "It was nice to learn from guys who understood how to hone in on their routine, listen to their arm throughout the week and what their mentality is every time they stepped between those lines."
Reilly went undrafted out of the New Jersey high school ranks in 2020 due to his strong commitment to Vanderbilt. Attending Vanderbilt has allowed Reilly to refine his skills while enhancing his status as a pro prospect. Scouts consider Reilly as a likely early-round pick in July's draft.
"My thought process behind the draft is to put my head down and work," Reilly said. "If you really think about that stuff, it's not going to help you. For me, it's just simplifying everything, doing what I need to do on that specific day and take it a day at a time."
Reilly is a 6-foot-3, 210-pound right-handed pitcher who throws a four-seam fastball, slider, cutter and changeup from a three-quarters arm slot and quick arm action.
He misses plenty of bats with his fastball, which is his best pitch. It sits in the mid-90s, touching 98 mph, and has a natural arm-side run. He pitches aggressively with it and isn't afraid to challenge hitters at the top of the strike zone.
Reilly's mid-80s slider serves as an outpitch. He prefers to use his slider low in the strike zone to generate swings and misses. His changeup is a developing pitch that he's trying to throw with more confidence and conviction this season. He also has a cutter but hasn't consistently used it in games.
Reilly has the pitch mix, size and potential to be a starting pitcher in pro ball.
"Using my size and physical ability to create a presence on the mound helps me," Reilly said. "When you think of a guy like Kumar Rocker, he won games before teams even saw him throw a pitch in warm-ups because of the presence, size and aurora around him. Understanding body language and how your face looks on the mound are big pluses to add to the game. I am a bigger guy and can use my size to my advantage to portray that."
Reilly has an electric pitch mix but has struggled with his control. He walked 5.9 batters per nine innings in his first two years at Vanderbilt. He then recorded 6.8 walks per nine innings in 25 1/3 innings in the Cape Cod League last summer.
In the offseason, Reilly identified inefficiencies in his mechanics. He has worked on "adding some counter rotation and staying connected with my backside a little longer," he said. The tweaks have allowed him to take the stress off his arm and use his body more efficiently.
Reilly hopes his offseason work allows him to improve his control and command. He is unsure what role he will pitch in this season.
"It's just winning that first pitch because then it changes the landscape of the at-bat," Reilly said. "One thing we are really working on is dialing in on the 0-0 pitch, winning the first strike and going from there."
Vanderbilt posted a 39-23 record and made its 16th consecutive NCAA Tournament appearance last season. The Commodores failed to advance out of the regional last season, snapping a four-year stretch that consisted of them at least making it to the super regional, minus the 2020 shortened season.
Expectations are always high for the Commodores, one of the premier programs in college baseball. They have a talented roster, headlined by Reilly and outfielder Enrique Bradfield.
The Commodores won the national title in 2019 and finished as the runner-up in 2021. They hope to return to the College World Series in Omaha, Nebraska, and capture their third national title in program history this season.
"It's showing up every day with your full energy devoted to the field and your craft that day," Reilly said. "Everyone focuses on the Tuesdays, Fridays, Saturdays and Sundays when you are on TV and playing, but Wednesdays and Thursdays are just equally important. We just have to enjoy each other and not look too far ahead."
Read more in-depth stories on top 2023 MLB draft prospects at Baseball Prospect Journal.
Do you enjoy reading Baseball Prospect Journal's draft content? Support our work and become a Patron!
Dan Zielinski III has covered the MLB draft for eight years. He has interviewed 433 of the top draft prospects in that period, including four No. 1 overall picks. Multiple publications, including Baseball America, USA Today, MLB.com, The Arizona Republic and The Dallas Morning News, have quoted his work, while he has appeared on radio stations as a "MLB draft expert." Follow him on Twitter @DanZielinski3.