BROOKLYN, N.Y. – Controlling the strike zone is a point of emphasis for Jonathan Cannon anytime he takes the mound. In his first seven starts for the Chicago White Sox's Class A-Advanced Winston-Salem Dash team, Cannon posted the third-lowest WHIP in the South Atlantic League (1.07) and allowed two or fewer runs in five appearances.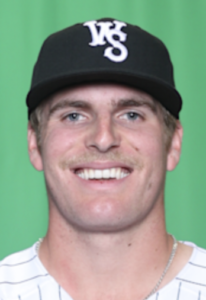 "I think I always had good command," Cannon said. "It is something that coaches always preach. It's just attacking hitters. The way I look at it is that I don't want to gift the hitter first base. If he is going to reach base, then he is going to have to beat me. That has always been my mindset."
Cannon generally attacks the strike zone and works ahead in the count. He suppresses hard contact with his sinking fastball and has only allowed three home runs in 40 1/3 innings. Opposing hitters are hitting .227 against him this season.
His success comes from his work with the coaching staff and the team understanding his approach.
"I think part of it is that I have a great group of coaches and a great group of players around me," he said. "They have kind of learned the way that I pitch and are really helping me succeed at this level, which is different from college, and helping me adjust to professional hitters."
The White Sox took Cannon in the third round of last year's MLB draft after watching him flourish and progress over three seasons in college with the Georgia Bulldogs. He showed initial promise at Georgia, tossing 11 1/3 scoreless innings as a freshman. He joined the rotation the following season in 2021. Cannon led the Bulldogs in innings pitched in his first season as a starter.
"The biggest thing was just developing routines," Cannon said about moving to the rotation. "Having routines in between starts, bullpen routines, and figuring out what works for you is what makes you succeed. It was honing those things that led me to where I was (at Georgia)."
Despite being draft eligible after his sophomore season, Cannon stayed in school for another year, believing he had more to prove at the college level. Cannon bolstered his pitching arsenal, adding a cutter to counter left-handed hitters. Adding an extra pitch led to improved results. He finished the year with a 9-4 record and an improved strikeout rate. Cannon was also a semifinalist for the Dick Howser Trophy.
Pitching his junior season at Georgia helped Cannon refine his pitch mix and prepare him for pro ball, he said.
"(The cutter) gave me another pitch to get hitters out," Cannon said. "One of the biggest things I wanted to improve after my sophomore season was getting lefties out since they were hitting significantly better. I needed to add something else, and the cuter was the pitch I landed on. I was able to refine it and learn how to use it to retire hitters."
Shortly after the draft, Cannon made his pro debut and closed the season with three starts at Class A Kannapolis, where he posted a 1.42 ERA. He worked with John Ely and Guillermo Quiroz, who served as the pitching coach and manager, respectively.
Ely and Quiroz also joined Cannon in the same roles at Winston-Salem this season and helped establish continuity for him to build off his initial pro showing.
"It is awesome to keep working with them," Cannon said. "Ely has helped me so much with refining my mechanics and utilizing my lower half. It really helped me improve my velocity and hold it deep into games. I attribute that to him and his professional experience, and Quiroz has been a great manager, and being familiar with them has made this season really good thus far."
The right-handed pitcher boasts a four-pitch mix. Cannon throws a mid-90s sinking fastball, slider with movement on both sides of the plate, emerging cutter and changeup. He has a smooth, repeatable delivery, reminiscent of former MLB pitcher Charlie Morton. Cannon works around the bottom half of the strike zone and relies on movement to generate weak contact to keep hitters off stride.
"Growing up in Atlanta, I grew up a huge Braves fan, so watching that postseason run in 2021 was when I got to watch Morton consistently," Cannon said. I took a lot of things from him, like the way he utilizes the four-seam fastball, the curveball, and even the cutter. I think watching him was definitely beneficial to my arsenal."
Cannon's goal is to regularly pound the strike zone early in the count without overpowering the batters he faces. His command takes precedence. The result is the ability to last deeper into games and maintain consistency throughout a start.
"I feel like pitching in the pros is very similar to college," Cannon said. "The biggest thing is filling up the zone. If you force hitters to work up in the zone, they are going to have to put it to play. For a starter, it's a huge thing to pitch into the sixth or seventh inning. It is a lot easier for your bullpen and a huge confidence booster for the rest of the team."
The early potential displayed by Cannon at the pro level lends credence to the notion that he can quickly rise through the White Sox minor league system and potentially develop into a middle-of-the-rotation starter.
The White Sox prioritized pitching in the 2022 draft. The selected Noah Schultz and Peyton Pallette in the first two rounds before taking Cannon in the third round. Each pitcher ranks among the top 10 prospects in the organization, with Cannon furthest along in the system among the trio.
"The White Sox organization has been a huge help in refining my pitches and with the delivery," Cannon said. "Peyton Pallette, I faced in college, and he is a tremendous arm having success at Kannapolis. I got to meet Schultz as well.
"The development aspect has been huge working with our pitching coordinator and our pitching coaches, and I think spring training was definitely big for me in learning where I need to get better and coming up with a good plan."