Joseph Gonzalez is anxiously awaiting the start of the college baseball season. The right-handed pitcher made notable strides as a sophomore at Auburn last season and has high hopes for himself this season.
Gonzalez is one of the best pitchers in college baseball. He is drawing significant interest for July's MLB draft, with scouts projecting him as a likely early-round pick. Gonzalez appreciates the attention. He also can't help but recall his journey to this point.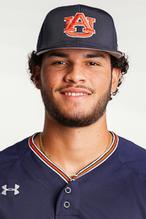 Gonzalez left his home country of Puerto Rico in 2020 to further his education and baseball career. He committed to Auburn over interest from Miami and Southern Cal after visiting with the Auburn coaches four or five times over Zoom due to the COVID-19 pandemic.
The last two years haven't always been easy, Gonzalez admits. He has had to learn English and acclimate himself to the lifestyle of a college student-athlete. But his commitment to chasing his dream of playing professional baseball has led to him pitching in college baseball's best conference and a likely shot at getting drafted after his junior season.
"It means a lot because I have been working for it," Gonzalez said. "Some people think that is pressure for me or something, but I don't really get nervous and don't feel pressure. I'm going to keep doing what I have been doing the last two years."
Gonzalez's family has traveled from Puerto Rico to Alabama to watch Gonzalez pitch in each of his first two years at Auburn. Last season, Gonzalez received the starting nod against Vanderbilt with his family in attendance.
Gonzalez threw a gem against the No. 12-ranked Commodores. He pitched a complete game, allowing one earned run on eight hits while striking out eight batters in the Tigers' 8-2 victory. The strong performance gave Auburn the series victory and Gonzalez and his family a special memory.
"That was unbelievable," Gonzalez said. "It's crazy that my family only comes once a year to watch me play and that was the day of my complete game. It's like they give me the energy or vibes."
Gonzalez hopes to build on last year's success. After posting a 6.17 ERA as primarily a reliever his freshman year in 2021, he served as a valuable piece in Auburn's starting rotation last season. He posted a 3.22 ERA with 54 strikeouts and 15 walks allowed in 78 1/3 innings.
Scouts rave about Gonzalez's composure and command on the mound. He is a 6-foot-4, 240-pound right-hander who throws a four-seam fastball, two-seamer, slider and changeup from a three-quarters arm slot. He consistently attacks the zone with his pitch mix.
His two-seamer is his best pitch. He prefers to use the low-90s offering, which touches 95 mph, over his four-seam fastball, which he tends to throw against lefties. His slider is a quality strikeout pitch that generates plenty of swings and misses.
"My strikeout pitch is my slider," Gonzalez said. "I need to make sure I keep it low in the zone."
During his time at Auburn, Gonzalez has worked on his changeup. His changeup flashes potential, but he needs to refine his command with the pitch.
Gonzalez has struck out 6.3 batters per nine innings in his first two seasons at Auburn. He wants to increase that number and believes it comes down to his ability to command and control his pitches.
"I want to get more strikeouts," Gonzalez said. "I need to make sure my pitches are low in the zone and nothing stays up in the zone. That doesn't work for me. My thing is to keep my pitches low. I just need to trust myself."
Last season, the Tigers advanced to the College World Series in Omaha, Nebraska, for the second consecutive time in three years. It also marked the third time they won an NCAA Tournament Regional in the last four years.
Gonzalez was Auburn's top starting pitcher and started the team's first game of the College World Series against Ole Miss last season.
Expectations remain high for the Tigers this season. They are a preseason top-25 team, with Gonzalez leading their starting rotation and numerous quality veterans returning to their lineup. They believe they have the pieces to make another deep run in the NCAA Tournament.
"Everyone is excited about this season, knowing last year's team went to Omaha, and that is the goal for all of us," Gonzalez said. "That is what we are working for. Last year has motivated us."
Read more in-depth stories on top 2023 MLB draft prospects at Baseball Prospect Journal.
Do you enjoy reading Baseball Prospect Journal's draft content? Support our work and become a Patron!
Dan Zielinski III has covered the MLB draft for eight years. He has interviewed 433 of the top draft prospects in that period, including four No. 1 overall picks. Multiple publications, including Baseball America, USA Today, MLB.com, The Arizona Republic and The Dallas Morning News, have quoted his work, while he has appeared on radio stations as a "MLB draft expert." Follow him on Twitter @DanZielinski3.