Tanner Hall took a significant step forward in his development on the mound last year. The right-handed pitcher excelled as a starter at Southern Miss to earn an opportunity to pitch with the U.S. collegiate national team last summer.
He pitched four scoreless innings against Cuba at Honkbalweek Haarlem, a biannual international invitation baseball tournament in Haarlem, Netherlands, last summer.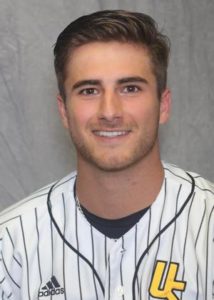 "That was the coolest baseball experience of my life," said Hall on pitching against Cuba.
Hall's performance in 2022 caught the attention of professional scouts. He enters his junior season as the ace of the Southern Miss pitching staff and a pitcher to watch for July's MLB draft.
He doesn't overpower hitters but has the best command of any pitching prospect in this year's draft class. Scouts consider Hall a likely early-round pick in this year's draft.
"It's unbelievable," Hall said. "It blows my mind to think about knowing where I came from and how I've developed. When I was younger, I never really would have seen that I would be where I am today. But I had a dream, and that is really only where I saw that happening was my dreams. Just to turn that into reality is crazy to me. It lets me know that anything is possible."
Hall is a 6-foot-1, 186-pound right-handed pitcher who throws a sinker, changeup and slider from a compact arm action, three-quarters arm slot and repeatable delivery.
The righty typically leans on his sinker and changeup. His sinker sits 90-91 mph and touches 95 mph. He shows a quality feel for his above-average low-80s changeup. It is his go-to offering that plays well off of his sinker and features quality movement.
Hall's pitch mix doesn't overpower hitters. But he locates his pitches well and has a strong feel for pitching, allowing him to generate quality strikeout numbers and frequently induce ground-ball outs. Last season, Hall posted a 2.81 ERA with 146 strikeouts and 14 walks allowed in 109 innings.
"First-pitch strike percentage is important," Hall said. "I feel like that is where strikeouts come into play. An 0-1 count is something lethal as a starter. When you are starting, every pitch counts, so when you can get ahead, the batter is instantly doubting the scouting report. It allows me to set up any pitch I want."
In the offseason, Hall worked on his slider to make it a quality third pitch. His goal was to regain his feel and confidence for the pitch, which he struggled with at times last year, he said.
He threw his slider consistently in catch play during the offseason to gain comfort with his grip and throwing motion. He also sought the advice of other college pitchers, including Georgia left-handed pitcher Jaden Woods.
Woods and Hall were throwing partners with the U.S. collegiate national team in North Carolina. Woods has a quality slider and offered Hall tips on how he developed his breaking pitch.
Now, Hall believes his slider is "where it needs to be" and plans on deploying it throughout his junior season this spring, he said.
"I lost my feel a little bit during the season for that pitch last season and needed to get it back," Hall said. "In order to get it back, I just threw it during catch play. Just wanted to repeat the motion. I found it and got comfortable with it."
Expectations are high for Hall this season. He will lead the Southern Miss pitching staff after Hunter Riggins graduated and Hurston Waldrep transferred to Florida following last season.
Southern Miss is one of the top mid-major programs and enters this season as a top-25 team. The Golden Eagles made their sixth consecutive NCAA Tournament appearance last season. They defeated Louisiana State to advance to the super regional for the first time since 2009.
The Golden Eagles hope to build on last year's success this season.
"We are just itching for that moment to get out there and play," Hall said. "When it happens, it's going to be like letting a dog off the leash. We are going to go crazy, and we are going to fight."
Read more in-depth stories on top 2023 MLB draft prospects at Baseball Prospect Journal.
Do you enjoy reading Baseball Prospect Journal's draft content? Support our work and become a Patron!
Dan Zielinski III has covered the MLB draft for eight years. He has interviewed 433 of the top draft prospects in that period, including four No. 1 overall picks. Multiple publications, including Baseball America, USA Today, MLB.com, The Arizona Republic and The Dallas Morning News, have quoted his work, while he has appeared on radio stations as a "MLB draft expert." Follow him on Twitter @DanZielinski3.