Max Anderson has lived out his dream of playing for the Nebraska Cornhuskers during his college baseball career. The experience nearly didn't happen for the Omaha, Nebraska, native, however.
Anderson, an infielder, originally committed to Texas A&M during his prep career. But due to the COVID-19 pandemic, Texas A&M didn't have a roster spot for him, as student-athletes received an extra year of eligibility due to the shortened 2020 season.
It led to Anderson signing with his home-state university. The turn of events has paid off for Anderson. He has excelled against college pitching, hitting .311 with 17 home runs, and developed into an MLB draft prospect in his first two years at Nebraska.
Anderson enters this spring as one of the top hitters in college baseball and a potential early-round pick in July's draft.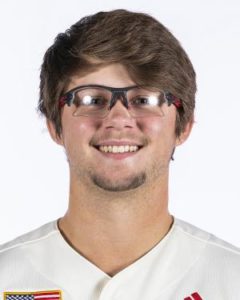 "It didn't really dawn on me until I started talking to a scout or two," Anderson said. "I have always been the guy who plays baseball and however far it takes me, I'll be glad. It has always been a dream since I was a little kid to be a professional baseball player. It didn't really dawn on me that it could be a possibility until this past summer. It's crazy. It's a dream come true. I'm blessed to have the opportunity."
Anderson is a 6-foot, 215-pound right-handed hitting infielder known for his offensive skill set. Anderson, who uses a slightly crouched stance and wide base, has good bat speed and pitch recognition. He consistently barrels up the baseball and drives the ball with authority to all parts of the field.
He spent the offseason refining his approach. His goal is to have an aggressive mindset at the plate where he attacks his pitch rather than simply swinging at any pitch in the strike zone, he said. He believes the changed mindset will benefit him offensively this season.
"As a junior and a guy who has played a lot of college baseball, my biggest strength is my baseball IQ," Anderson said. "There are a lot of things that younger guys just don't understand about the college game. I can help out and call out to the younger guys with my knowledge of the game. Knowing the little things of baseball has allowed me to step up and helped me."
Anderson, a high school shortstop, has bounced around the infield in college. He has gained experience at first base, second base and third base at Nebraska. He was Nebraska's starting third baseman in each of the last two years.
His versatility is valuable, and he displays respectable arm strength and range. Right now, Anderson is an average defender who needs to improve his defensive actions.
This season, Anderson will begin the season as the Huskers' starting second baseman, he said.
"I'm a true believer in fielding that there is no ceiling for your development," Anderson said. "From freshman year to now, I have made a huge jump. I think I can do the same thing from where I am now and take a huge jump this year. I think I can take my defense to an elite level. There is always room for improvement with fielding."
Anderson has served as Nebraska's best player in his first two seasons. He will play a critical role in Nebraska's success this spring.
In 2021, Anderson earned Big Ten Freshman of the Year and led the Huskers to a conference regular-season title and NCAA Tournament berth with a 34-14 record. Last season, the Huskers didn't experience the same success. They posed a 23-30 mark and tied eighth in the 13-team conference.
The Huskers hope to regain their 2021 form this season and qualify for the NCAA Tournament. Anderson believes the Huskers have the right pieces to accomplish that goal.
"I have been on two completely different sides of college baseball and seasons," Anderson said. "We can learn pretty much everything from last year. We need to become a tighter group chemistry-wise. This year, a big emphasis for us is getting close together and having great chemistry."
Read more in-depth stories on top 2023 MLB draft prospects at Baseball Prospect Journal.
Do you enjoy reading Baseball Prospect Journal's draft content? Support our work and become a Patron!
Dan Zielinski III has covered the MLB draft for eight years. He has interviewed 433 of the top draft prospects in that period, including four No. 1 overall picks. Multiple publications, including Baseball America, USA Today, MLB.com, The Arizona Republic and The Dallas Morning News, have quoted his work, while he has appeared on radio stations as a "MLB draft expert." Follow him on Twitter @DanZielinski3.