Juaron Watts-Brown racked up double-digit strikeouts in four of his last five starts at Long Beach State last season. The then-redshirt freshman posted 111 strikeouts in 73 1/3 innings for a noteworthy 13.6 strikeouts per nine innings ratio.
Watts-Brown's success at Long Beach State caused him to seek an opportunity at the Power Five level to further his development. Now at Oklahoma State, Watts-Brown enters his redshirt sophomore season as a potential first-round pick in July's MLB draft.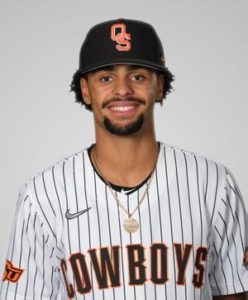 "It is surreal because you dream about it as a kid and now it's a reality and in front of me," Watts-Brown said. "I'm excited for what is going to happen."
Watts-Brown's pitch mix, repeatable delivery, ability to rack up strikeouts and overall potential make him a must-watch pitcher this spring. The 6-foot-3, 190-pound right-handed pitcher throws a four-seam fastball, two-seamer, slider, curveball and changeup from a three-quarters arm slot and clean, athletic delivery.
His fastballs are average pitches that sit in the low-90s and touch 96 mph. He typically throws his four-seam fastball to left-handed hitters and two-seamer to righties.
Watts-Brown's big-breaking curveball is a respectable pitch he started throwing consistently last summer and in the fall. His above-average slider is his best pitch that features tight-breaking action and quality command. It generates plenty of swings and misses.
"I think my slider is the better off-speed pitch because I can command it a little bit better," Watts-Brown said. "My slider I enjoy throwing more and it is my strikeout pitch."
Watts-Brown didn't throw his changeup consistently last season. He worked on the pitch this offseason and plans on using it more this spring. He throws his changeup with good arm speed. It features fading action. This season, Watts-Brown hopes to show a strong feel for his changeup.
"It is the repetition of it and being comfortable with it," said Watts-Brown on improving his changeup. "I think the changeup is the feel pitch. You have to have a feel for it and feel for it out of your hand. That's huge with it. Using it consistently is what's going to help develop the pitch and make it better."
Watts-Brown posted a 3.68 ERA with 111 strikeouts and 29 walks allowed in 73 1/3 innings last season. Scouts project the righty to take a step forward this spring.
His performance will impact Oklahoma State's success this season. The Cowboys lost their top two starting pitchers from last season to the draft, allowing Watts-Brown to slide into one of those roles this spring.
Oklahoma State is a premier program in college baseball. The Cowboys have qualified for the NCAA Tournament each season since 2013. They have only advanced to the College World Series once in that span, accomplishing that feat in 2016.
The Cowboys believe they have the pieces to make it to the College World Series in Omaha, Nebraska, this season.
"Our team, right now, is just trying to build a great bond," Watts-Brown said. "We want one big group that is on the same page and going for the same goal. It will help us get better each series, so when we get to Omaha, we won't be fazed by anything."
Read more in-depth stories on top 2023 MLB draft prospects at Baseball Prospect Journal.
Do you enjoy reading Baseball Prospect Journal's draft content? Support our work and become a Patron!
Dan Zielinski III has covered the MLB draft for eight years. He has interviewed 433 of the top draft prospects in that period, including four No. 1 overall picks. Multiple publications, including Baseball America, USA Today, MLB.com, The Arizona Republic and The Dallas Morning News, have quoted his work, while he has appeared on radio stations as a "MLB draft expert." Follow him on Twitter @DanZielinski3.