Alonzo Tredwell dominated opposing hitters as UCLA's closer last season. It was an unfamiliar role for the then-freshman right-hander after he joined the program as a high-profile starting pitcher.
UCLA boasted a loaded pitching staff last season. Closing out games allowed Tredwell to gain valuable experience in his first season. This spring, Tredwell will move into UCLA's starting rotation.
Expectations are high for Tredwell, who has ace potential due to his size, impressive strike-throwing ability and clean delivery. He enters this season as a potential first- or second-round pick in July's MLB draft, with the ability to enhance his draft stock with a strong season in the starting rotation.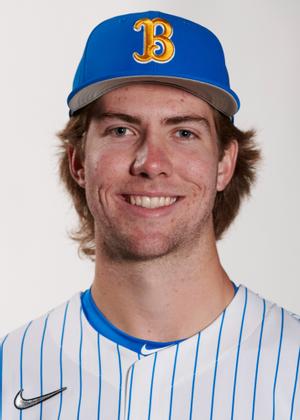 It marks the second time Tredwell is eligible for the draft. He was a well-regarded prospect for the 2021 draft as a California prep pitcher before removing his name from the draft so he could honor his commitment to UCLA.
"It's cool being draft eligible as a sophomore," Tredwell said. "It's something I'm looking forward to. Honestly, my goal isn't just to be drafted. My goal is to have a very long and successful career in the major leagues. I'm excited for the next step in my career after college baseball."
Scouts will closely watch Tredwell this spring. He is a 6-foot-8, 240-pound right-handed pitcher that throws a four-seam fastball, 12-to-6 curveball, slider and changeup from a high three-quarters arm slot and low-effort delivery.
Tredwell's best pitch is his above-average four-seam fastball. It sits at 93-94 mph and touches 96 mph. The pitch plays up due to his extension and release height.
His slider is a quality pitch with a tight break and serves as a swing-and-miss offering. He mixes in a curveball and an above-average circle changeup.
In the offseason, Tredwell tweaked his lower-half mechanics. He synced up the lower half of his body with his arm and worked on pushing down the mound efficiently. The changes will continue to allow him to throw a high percentage of strikes.
Last season, as a freshman, Tredwell had 62 strikeouts compared to six walks allowed in 47 innings.
"My biggest strength in my game is my strike-throwing, consistency and repeatability," Tredwell said. "For me, if I am hitting the glove, repeating my mechanics, consistent in the zone and consistent with my routine, that is when I am going to pitch my best."
Tredwell's pitch mix and strike-throwing ability allowed him to excel last year in the closer's role. Besides his impressive strikeout-to-walk ratio, he recorded a 2.11 ERA and a 0.830 WHIP in 47 innings in 25 appearances.
If Tredwell can establish himself as a quality starting pitcher this spring, he will enhance his draft status and position himself as one of the top pitchers in this year's class.
"I just want to establish myself as a starting pitcher again," Tredwell said. "Last year, I established myself in that closing role. This year, I want to prove myself as a starter again and show that I can go deep into games and have the same stuff in the ninth inning that I had in the first inning. That is the goal for me."
Tredwell will play a vital role in UCLA's success this season. He raves about his experiences and development at UCLA. He hopes to be a reliable starter in the team's rotation.
The Bruins went 40-24 and lost to Auburn in the NCAA Tournament Regional Final in 2022. They played a lot of true freshmen last season. The experience the underclassmen gained will benefit the Bruins this season as they try to make it to the College World Series in Omaha, Nebraska, for the first time since 2013.
"We had an early exit in the playoffs last year," Tredwell said. "This year, a big goal for us is to win our regional and super regional and make it to Omaha. That is a goal for us, and that is what the goal should be every year, especially this year. We know we have the talent to do it. We haven't been to Omaha since 2013, so we definitely have to go back there now."
Read more in-depth stories on top 2023 MLB draft prospects at Baseball Prospect Journal.
Do you enjoy reading Baseball Prospect Journal's draft content? Support our work and become a Patron!
Dan Zielinski III has covered the MLB draft for eight years. He has interviewed 433 of the top draft prospects in that period, including four No. 1 overall picks. Multiple publications, including Baseball America, USA Today, MLB.com, The Arizona Republic and The Dallas Morning News, have quoted his work, while he has appeared on radio stations as a "MLB draft expert." Follow him on Twitter @DanZielinski3.