Jud Fabian knew early in his Trinity Catholic (Fla.) High School career that he wanted to play baseball at the University of Florida. He made that aspiration a reality when he graduated high school and enrolled a semester early at Florida in January 2019.
The decision removed the potential first-round pick from the 2019 MLB draft. That didn't matter to Fabian, though. He believed attending Florida, a premier college baseball program, would allow him to develop his skills and put him in a better position to thrive in the professional ranks in the future.
Fabian, who was at least a year younger than his counterparts, experienced mixed results in his freshman year at Florida in 2019. But the struggles he faced early in his career have helped him develop into one of the top players in college baseball throughout his first 2½ years at Florida.
"I feel like that was the right decision for me to come early and work against the SEC competition," Fabian said. "It bettered me and allowed me to see where I was at. I struggled freshman year throughout the SEC part of the year, but I think that made me mature into a better hitter and a better player. It helped me as a sophomore to have more confidence. I feel like I have more confidence than I have ever had going into this year."
Fabian hopes that confidence will allow him to build off his notable start to the 2020 season in his junior season. This spring will be a critical year for Fabian, as he is a projected top-five pick in July's draft.
The Florida outfielder isn't focused on the draft attention, though. Watching other Florida players go through the draft process during his first two years at Florida has prepared Fabian for his junior season and the attention the draft process brings, he said.
"I haven't really gone through the draft process quite yet," Fabian said. "But I have been just focused on getting through this fall and making myself the best player I can be for when that time comes."
As a freshman in 2019, Fabian hit .232 with nine doubles, seven home runs, and 26 RBIs in 168 at-bats. He played in 56 games, making 54 starts in center field.
Fabian hit .345 in the 18 games leading up to the start of Southeastern Conference play. He struggled against the high-end pitching in the SEC. He believes Louisiana State right-hander Cole Henry and Mississippi State lefty Ethan Small are the toughest pitchers he has faced during his collegiate career.
Fabian showed some improvement in the Cape Cod League in the summer of 2019. He hit .290 with eight doubles, six home runs, and 16 RBIs with a wood bat in 124 at-bats in 35 games.
He was off to a strong start last season until the COVID-19 pandemic caused the season to end prematurely. He recorded a .294 batting average with six doubles, five home runs, and 13 RBIs in 68 at-bats in 17 games.
"The adversity I faced my freshman year has helped a lot," Fabian said. "Being a good person at anything, you will have to go through some struggles. It has helped me become the player I am today. It was tough to get through it, but now I know it was good that I had to go through it."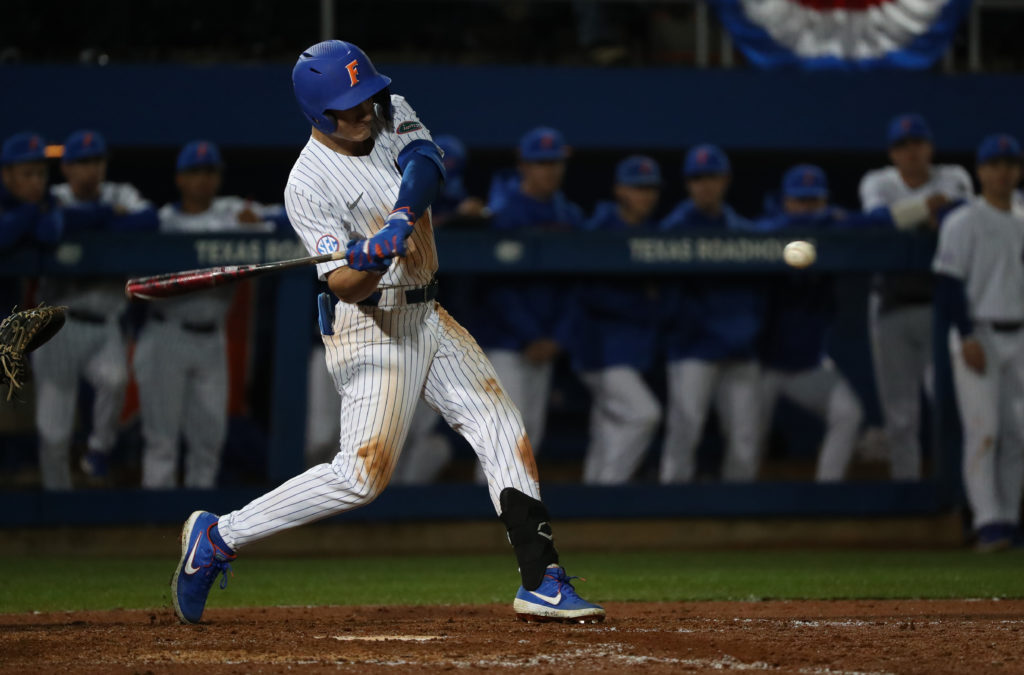 Fabian is a 6-foot-2, 195-pound right-handed hitter who is a five-tool player. He uses a natural upright stance and stride while possessing clean mechanics through contact. He possesses power to all fields and profiles slightly more as a power-over-average hitter.
His defensive skills are just as impressive as his hitting ability. The center fielder has strong instincts, reads the ball well off the bat, and is a solid route runner. He is athletic and an above-average runner. He also has above-average arm strength.
Fabian takes pride in his defensive skills and has focused on that area of his game heavily since high school, he said. He profiles as a quality center fielder long-term in pro ball.
"I like to think of my defense as my biggest strength," Fabian said. "I take a lot of pride in my defense just because there is a lot of outs you can get and runs you can save by playing quality defense. If you save one run and win by one run, that will add to your value the most. I pride myself on defense more than anything else."
Fabian struck out 45 times and drew 28 walks his freshman year. He then tallied 18 strikeouts compared to 13 walks last season. He spent the offseason working on his plate discipline and hopes to show improvement in that area during his junior year.
"I think I need to cut down on my swing a little bit to put the ball in play, especially with two strikes," Fabian said. "That is what I have been working on is shortening my swing but still being able to hit the ball hard."
Florida returns an extremely talented roster and is one of the favorites to win the national championship in 2021. The Gators' 43-year streak of having a player selected in the draft ended in 2020, as right-handed pitchers Tommy Mace and Jack Leftwich wanted to return to the Gators instead of turning pro.
Mace, Leftwich, and lefty Hunter Barco, a top 2022 draft prospect, will serve as Florida's weekend rotation. Fabian will anchor Florida's talented lineup.
Fabian believes Florida has all the pieces to win the program's second-ever national title this season.
"It made all of us excited when we came back and knew they were back for this season," said Fabian on Mace and Leftwich. "The buzz in the air was extreme because we knew we had something special last year, and we have every key piece back.
"Our team goal is always to get to Omaha and win a national championship. We were looking forward to it last year, and I think we will come back this year even hungrier to win a national championship."
Read more in-depth stories on top 2021 MLB draft prospects here.
Dan Zielinski III has covered the MLB draft for six years. He's interviewed 253 of the top draft prospects in that period, including three No. 1 overall picks. Multiple publications, including Baseball America, USA Today, MLB.com and The Arizona Republic, have quoted his work, while he's appeared on radio stations as a "MLB draft expert." Follow him on Twitter @DanZielinski3.