Justin Riemer has been a key hitter in Wright State's lineup for the last two years. He has made notable strides in his development after joining the program as a lightly recruited middle infielder out of high school and redshirting his first season at Wright State.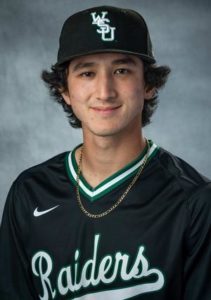 Riemer, a redshirt sophomore shortstop, is one of the top contact-oriented hitters in college baseball. His offensive skill set has caused Riemer to receive interest in preparation for July's MLB draft. Scouts project Riemer as a likely early-round pick in this year's draft.
"It means the world to me," Riemer said. "It's something I have worked really hard for, and I know I'm going to continue to develop as a baseball player. It's something that's really, really exciting for me."
Scouts rave about Riemer's hit tool. He is one of the top hitters in college baseball, possessing elite bat-to-ball skills and a sound approach at the plate. He rarely expands the strike zone and consistently squares up the baseball to hit line drives into the gaps from the right side of the plate.
Riemer is a 6-foot, 170-pound middle infielder who initially joined Wright State as a switch hitter. After redshirting his first year in the program, Riemer started hitting exclusively from the right side, which is his natural side, leading up to the 2022 season. Focusing on hitting from one side of the plate has allowed him to enhance his overall skills.
"My biggest strengths right now are my bat-to-ball skills and plate discipline," Riemer said. "They are things I take very seriously and something I knew I did a good job on last year, given my strikeout percentage. I can play it to my advantage, and I worked on it this offseason to do even better."
Defensively, Riemer split time between second base and shortstop last season. This spring, Riemer is Wright State's starting shortstop. He is an above-average athlete who moves well on the dirt and possesses an average arm. He is a solid defender at both up-the-middle spots but profiles best at second base.
"I love playing both spots and the responsibility that comes with playing both spots," Riemer said. "I'm really comfortable at both for different reasons, but I love the middle infield."
Riemer hit .329 with 13 doubles, two home runs and 27 RBIs in 185 at-bats last season. He had seven stolen bases and showed notable plate discipline with 31 walks and 12 strikeouts.
Wright State is a quality mid-major program that consistently performs at a high level and produces talent for the professional ranks. Last year, Riemer's development and performance helped Wright State win the Horizon League and earn the automatic berth to the NCAA Tournament for the second consecutive season.
Wright State hopes to qualify for the NCAA Tournament again this season. The Raiders are seeking their first tournament victory since 2016.
"We just need to play our game," Riemer said. "We have a really, really, really talented and deep squad this year. I'm really happy with how hard everyone has worked to be where we are at. If we continue to play our game and be the hungry and grit group that we are, I think we have a great shot."
Read more in-depth stories on top 2023 MLB draft prospects at Baseball Prospect Journal.
Do you enjoy reading Baseball Prospect Journal's draft content? Support our work and become a Patron!
Dan Zielinski III has covered the MLB draft for eight years. He has interviewed 433 of the top draft prospects in that period, including four No. 1 overall picks. Multiple publications, including Baseball America, USA Today, MLB.com, The Arizona Republic and The Dallas Morning News, have quoted his work, while he has appeared on radio stations as a "MLB draft expert." Follow him on Twitter @DanZielinski3.