Mike Boeve waited anxiously with his parents, sister and a few childhood friends at his college home in Omaha to see where he would go in the MLB draft on Sunday. He tried not to set expectations and wanted to enjoy the moment he worked towards for as long as he could remember.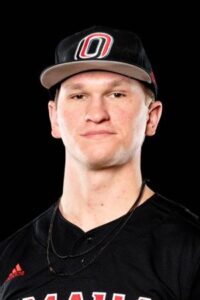 It wasn't a guarantee the Omaha junior third baseman would go on the first day of the draft, with scouts projecting him as a likely second or third-round selection. But around the No. 51 pick, Boeve's advisor called to inform him of the Milwaukee Brewers' intentions to select him in the second round.
Once the Brewers officially announced his name with the No. 54 pick, it was surreal for Boeve and his family.
"It was a super cool moment to have them there and to see it happen," Boeve said. "I say it was one of the best hugs I had with my parents and sister. We felt like the hard work was something we could celebrate in that movement.
"I knew they were one of the teams interested in that area, along with some other teams I thought might take me that night. It wasn't all specifically just Brewers. But that area, if it was going to happen in the second round, was kind of the hotspot."
Boeve regularly communicated with the Brewers throughout the draft process, including speaking with them at the MLB Draft Combine in June. He sensed the Brewers were high on him but wasn't sure if that would lead to them selecting him.
Boeve grew up in Hastings, Nebraska, a town of about 25,000 people in south-central Nebraska. He was around baseball his entire life, as his father, Jim, was the baseball coach at Hastings College for 24 years.
In Nebraska, baseball fans root for various teams due to the lack of an in-state option. Boeve followed the St. Louis Cardinals growing up, but after the Brewers selected him, he's excited to switch allegiances.
"We grew up as not die heart Cardinals fans, but that was the team we just followed," Boeve said. "They are a division rival. We were certainly ready to change our fandom, so we latched on pretty quickly to the Brewers."
Boeve is one of the best contact-oriented hitters in college baseball, with scouts raving about his offensive skill set. The 6-foot-2, 215-pound left-handed hitter is an advanced hitter with exceptional bat-to-ball skills and a strong feel for the strike zone. He uses a quick and compact swing to drive the ball consistently into the gaps.
This spring, Boeve hit .401 with 15 doubles, four home runs, 32 RBIs and six stolen bases in 211 plate appearances. He recorded 32 walks and nine strikeouts.
The biggest question around Boeve's offensive toolset is his ability to hit for power. He hit 13 home runs in his three years at Omaha. His swing is built to hit line drives, and he figures to hit for more power as he continues refining his swing and approach.
"That is a question I have had to answer for all 30 teams at this point," said Boeve on his power potential. "There are things I am working on. Building off the approach and picking my spots. Then there are some swing mechanic things I can do.
"Not being so quad-dominant is one thing I am working on. I have worked on adding a little bit of a hip coil. Using more of my top hand more. Being a left-handed hitter and right-handed dominant, my right hand takes over at times, which is good because it allows me to spray the ball to all fields. But I want to lock in that top hand more. Maybe that can get me some more power, especially to the pull side."
Defensively, Boeve played third base during his sophomore and junior seasons at Omaha. As a freshman in 2021, he played third base and various other positions, seeing some time at first base, shortstop and in the outfield.
Last summer, Boeve refined his defensive skills in the Cape Cod League, working Yarmouth-Dennis assistant coach Steven Phillips on his fielding. Phillips instilled the importance of having a purpose defensively, which changed Boeve's mindset and gave him additional confidence.
Boeve is a reliable defender and has solid arm strength at third base. He has spent the time between the end of his junior season and the draft fielding ground balls from different angles and taking fly balls. He projects as a third baseman but will move positions if needed.
The Brewers selected Wake Forest third baseman Brock Wilken in the first round of the draft.
"I haven't heard a thing about that yet," said Boeve on how the Brewers view him defensively to start his career. "I'm certainly open to staying at third or moving positions. I'm confident in my athleticism and just how I pick up on things to move positions quickly. That is why the organizations get paid the big bucks is to find a way to get both of us in the lineup at the same time. That is something I'm probably most excited for to get going on."
Boeve's journey to becoming a pro player isn't unique, but it's an impressive story of hard work and determination. Boeve was lightly recruited out of high school, only receiving Division I offers from Omaha and Valparaiso.
He capitalized on his opportunity at Omaha, where he played instantly as a freshman and developed into one of the best hitters in college baseball over his three years in the program.
Boeve is the highest pick in Omaha program history, surpassing two-time All-Star catcher Bruce Benedict, who went in the fifth round back in 1976.
Boeve is "grateful" and "fortunate" for his time at Omaha, he said. The skills he developed and the mindset and work ethic he showed at Omaha will help him as he now tries to accomplish his goal of playing in the major leagues.
"I'm someone who is going to put their head down and work hard," Boeve said. "The real grind starts now. I don't think a lot of people realize that looking from the outside in. It's a long way to get up to the Brewers' major league club. But I'm ready to do whatever it takes to do that."
Read an in-depth draft profile to learn more about Boeve and his skill set here.
Dan Zielinski III has covered the MLB draft for nine years. He has interviewed 518 of the top draft prospects in that period, including four No. 1 overall picks. Multiple publications, including Baseball America, USA Today, MLB.com, The Arizona Republic and The Dallas Morning News, have quoted his work, while he has appeared on radio stationsas a "MLB draft expert." Follow him on Twitter @DanZielinski3.