Mike Boeve is one of the most underrated hitters in college baseball. He's had a standout career in his first two years at Omaha but typically isn't mentioned with some of the game's top performers, most of who play at the Power Five level.
Boeve earned the Summit League Player of the Year award after hitting .365 with eight home runs last season. His performance in the previous two years has caused him to receive interest for July's MLB draft.
It's not surprising Boeve has developed into a quality college performer due to his high baseball IQ, work ethic and overall feel for hitting. But he nearly didn't have the chance to play at the Division I level coming out of Hastings (Neb.) High School, as he only received offers from Omaha and Valparaiso.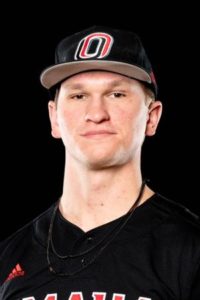 He has capitalized on his opportunity with Omaha. As he begins his junior season, Boeve, a third baseman, has transformed himself from a lightly-recruited prep player to a likely early-round pick in this year's draft.
"It's super exciting," Boeve said. "It's a blessing, honestly. Coming out of high school, it was maybe in the back of my mind that if I did everything right, it might be possible, but just knowing there is a chance for me to play baseball after college as a career is something I'm looking forward to."
Boeve played immediately as a freshman. He hit .319 with 16 doubles, one home run and 29 RBIs in 217 plate appearances. He showed respectable plate disciple with 29 strikeouts and 21 walks.
Boeve took a massive step forward last year. He posted a .365 average with 23 doubles, eight home runs, 33 RBIs and 12 stolen bases in 267 plate appearances. He also improved his plate discipline, tallying 39 walks compared to 29 strikeouts.
Scouts rave about Boeve's offensive skill set. The 6-foot-2, 215-pound left-handed hitter is an advanced hitter with exceptional bat-to-ball skills and a strong feel for the strike zone. He uses a quick and compact swing and figures to hit for more power in the future.
Boeve grew up around the game of baseball, as his father, Jim, was the baseball coach at Hastings (Neb.) College for 24 years. He credits his father for his even-keeled approach and philosophy at the plate.
"My ability to hit to all fields, including the opposite field," said Boeve on his biggest strength. "That is something that my dad preached as a kid. That was always a big focus of mine. I'm thankful that has transitioned to the college game."
Defensively, Boeve has primarily played third base while seeing some time at first base, shortstop and in the outfield in his first two years of college. He figures to play third base in pro ball due to his athleticism and arm strength.
In the offseason, Boeve refined his defensive skills. Boeve worked with Yarmouth-Dennis assistant coach Steven Phillips on his fielding in the Cape Cod League last summer. Phillips instilled the importance of having a purpose defensively, which changed Boeve's mindset and gave him additional confidence.
Boeve believes his offseason work will allow him to show improvement at third base this season.
"I just want to be a more consistent defender," Boeve said. "There were times last year I would be really confident in my defense, and there were times that it would kind of take a back seat to my hitting. I don't want that to happen. I want to play on both sides of the ball and not let any part of my game overshadow another."
Boeve is Omaha's top player and hopes to lead the program back to the NCAA Tournament for the second time in its history.
The Mavericks qualified for their first-ever NCAA Tournament appearance in 2019. But since then, they had the 2020 shortened season, followed by a 22-25 record in 2021 and a 26-30 mark last season.
The Mavericks placed third in the Summit League preseason poll behind Oral Roberts and North Dakota State, who both won over 30 games last season. Boeve believes the Mavericks have the pieces to challenge the conference's top two teams this season.
"We want to win the conference and get the chance to play in a regional," Boeve said. "A big thing for us is seeing improvement throughout the year. We can't let a Saturday and Sunday day game against a conference opponent that we are supposed to win slip away. If we don't take those things lightly and learn how to win more, we will have more momentum going into the tournament."
Read more in-depth stories on top 2023 MLB draft prospects at Baseball Prospect Journal.
Do you enjoy reading Baseball Prospect Journal's draft content? Support our work and become a Patron!
Dan Zielinski III has covered the MLB draft for eight years. He has interviewed 433 of the top draft prospects in that period, including four No. 1 overall picks. Multiple publications, including Baseball America, USA Today, MLB.com, The Arizona Republic and The Dallas Morning News, have quoted his work, while he has appeared on radio stations as a "MLB draft expert." Follow him on Twitter @DanZielinski3.