Garrett Crochet is one of the most intriguing pitchers in this year's MLB draft class and figures to go early in the draft, which runs June 10-11. The Tennessee left-handed pitcher has all the attributes major league teams seek in a starting pitcher. But he only pitched 3 1/3 innings this spring, as he missed multiple starts as precaution due shoulder soreness and then the season ended prematurity due to the coronavirus pandemic.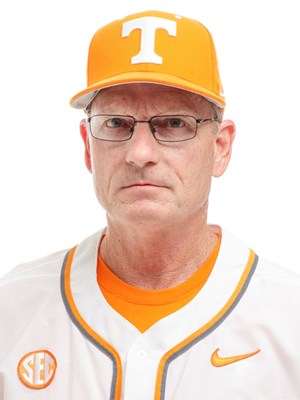 Tennessee pitching coach Frank Anderson discussed Crochet and his development into a top draft prospect with Baseball Prospect Journal's Dan Zielinski III. Anderson is one of the best pitching coaches in the country and has developed a multitude of pitchers for the professional ranks throughout his coaching career. He also is the father of major league left-handed pitcher Brett Anderson.
Read an in-depth story on Crochet's development and skills on the mound here.
Below is Zielinski's conversation with Anderson on Crochet:
Dan Zielinski III: What were the emotions like with the season ending early due to the coronavirus pandemic, especially with a pitcher like Garrett Crochet on your roster?
Frank Anderson: "Obviously a lot of us thought we were going to have really good years. We were 15-2 and had two of our best guys back for just one game apiece. Now as the draft approaches, Garrett Crochet is going to be a first-rounder. He has the best stuff of any guy I've ever had, and I've had a bunch of high draft picks, first-round guys, and my son (Brett Anderson) has been in the big leagues for 12 years. I've been around some really good guys, and Garrett is the best I've ever had. From that standpoint, you would've loved to see how it played out."
DZ: Garrett seems like a very competitive guy and obviously the skills are there for him on the mound, what makes him such a special player?
FA: "About a year ago, he got hit in the mouth with a line drive that broke his jaw. They had to put a plate in there. With me being old, I thought they wired it shut, but they don't do that anymore. But he had rubber bands going every direction and stitches everywhere. About two and a half weeks after that, he pitches in the regional. He had been on a liquid diet and lost 10-12 pounds, and every time a ball went up the middle, I kind of flinched. He didn't really show any of that and pitched us to a big win in the regional to get us to the regional final, which they hadn't done much around here lately.
"And then he was invited to Team USA trials, and he had already made his decision on how he needed to get into the weight room over the summer too. He knew he needed to change his diet and devote himself to that. The NCAA lets you do an occasional meal with these kids and most of these guys will say some fancy steakhouse, but Garrett said Zaxby's. That's kind of where his diet was at. He decided to change his diet, and his velocity with the strength change and the nutrition change, he just jumped. The next thing you know is the guy is 96 to 100 mph and his command of his secondary stuff is better.
"I've probably visited with more scouting directors and different people on his behalf than I have for anybody. And I had Andrew Heaney who was the ninth overall pick, and I actually sent Andrew some video of this kid. He goes, 'Jeez Coach, his stuff is a lot better than mine.' I responded and said, 'I hate to tell you this, but it is.' That doesn't mean Garrett is going to be an All-Star or anything like that, but his pure stuff is crazy.
"When we got into the spring and it gets a little chilly up here and we scrimmaged, he kind of had something in his shoulder and our head trainers are really good to the kids. He didn't shut him down, but he wanted to make sure he was healthy and protect him. We also were thinking that we were going to get a whole season. But then we didn't, and people are using that him against him a little bit just because we protected him and wanted him ready for SEC play.
"His first time out this spring after he came back, we were joking and took an over-under on if he was going to be above 95 mph or below. I said the first one he might goose in there, so I took the under. Well, his first pitch was 97 mph and his second one was 99. I was wrong about that. He's special, and he likes to compete. You throw the whole package in there with him being 6-foot-6, 225 pounds and left handed – that's kind of how you draw it up.
"We will see. I think he will go somewhere in the top 20 picks, probably somewhere between 10 and 20. You never know, if the major leagues go to 30-man rosters and a 20-man taxi squad, he might pitch in the big leagues at the end of the summer. You never know."
DZ: How have you seen him develop in his three years at Tennessee?
FA: "He was going to go to Jones County Junior College in Mississippi, and we got in here and we needed some bodies. The other thing is that we didn't have much left-handed pitching. He could throw it over the plate and spin it a little bit. We just needed a left-handed look. You can't teach 6-foot-5, so there was one real positive there, and then he was skinny as a rail, so the projection you could do was pretty good on him. If I was going to tell you that he was going to end up at this level, I'd be lying. I thought with natural maturity, that he would throw harder and that he would refine his skills. I thought I could teach him how to throw a slider and some of those things. But I didn't think 6-6, 225 and throwing 100 mph.
"We actually sent him some video the other day of his first fall scrimmage here when he was 84 to 86 mph. Now he's 96 to 100. To see a guy make some jumps and have some success and do that, that's why I enjoy coaching."
Dan Zielinski III has covered the MLB draft for five years. He's interviewed 191 of the top draft prospects in that period, including three No. 1 overall picks. Multiple publications, including Baseball America, USA Today and The Arizona Republic, have quoted his work, while he's appeared on radio stations as a "MLB draft expert." Follow him on Twitter @DanZielinski3.