Carson Montgomery joined Florida State as a highly-touted pitching prospect in fall 2020. He drew significant MLB draft interest during his senior year at Windermere (Fla.) High School but ultimately wanted the college experience.
Montgomery encountered mixed results in his first two years at Florida State. The expectations placed on him early in his college career caused him to feel pressure at times, he said. But the experience he gained as an underclassman will benefit him during his junior season.
Montgomery enters this spring as one of Florida State's top starting pitchers. He also is once again receiving draft interest. Scouts consider the right-handed pitcher a likely early-round pick in July's draft.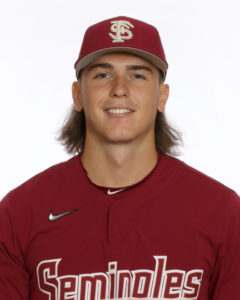 "I don't really worry about those things," Montgomery said. "What you do on the field will determine how high you get drafted or if you get drafted. The only thing you can focus on is what you do on the field and making yourself better."
Scouts rave about Montgomery's electric pitch mix. He is a 6-foot-3, 205-pound right-hander who throws a two-seam fastball, cutter, slider and changeup from a three-quarters arm slot and short arm action.
Montgomery's two-seamer is an above-average pitch that sits in the mid-90s and touches 98 mph with sinking action. He prefers to attack hitters lower in the strike zone with his two-seamer, as it leads to swings and misses or weak contact.
His mid-80s slider is an above-average pitch that misses a ton of bats. It plays well off his fastball and serves as his put-away pitch. He added a cutter before his sophomore season and typically used the low-90s offering against left-handed hitters to produce weak contact last year.
"My biggest strength is my mentality on the mound," Montgomery said. "Having the confidence that I have on the mound now, paired with my skills and arm strength, is going to be a really good combination for me this year."
Montgomery posted a 4.83 ERA with 101 strikeouts and 46 walks allowed in 82 innings in his first two years as a midweek starter at FSU.
Montgomery worked on his changeup in the offseason with new FSU pitching coach Chuck Ristano. He tweaked his circle-changeup grip to decrease the pitch's velocity and improve his control and command of the pitch.
Montgomery also wants to cut down on his walks this season. He walked 3.8 batters per nine innings last year, which was an improvement from freshman year (7.4 BB/9). He hopes to show growth in that area and believes it comes down to his mentality on the mound.
"Just not feeling the pressure, having the confidence to attack hitters and getting ahead in counts," Montgomery said. "I need to just let the defense work behind me and know the preparation I have done in the offseason and the week leading up to my outing will give me the confidence to attack hitters."
Montgomery and right-hander Jackson Baumeister are Florida State's top returning pitchers this season and potential early-round picks in the draft. Both will play a key role in the Seminoles' success under new coach Link Jarrett, who led Notre Dame to the College World Series last season.
The Seminoles have made the NCAA Tournament 44 straight times, which ties the NCAA record for consecutive appearances with Miami, who accomplished the feat from 1973-2016.
Despite the Seminoles' track record in qualifying for the tournament, they have never won a national championship. The Seminoles finished as the runner-up in 1970, 1986 and 1999. They last qualified for the College World Series in Omaha, Nebraska, in 2019.
The Seminoles posted a 34-25 record in 2022, as their season ended in the regional for a second consecutive year.
"We want to be a 40-win team," Montgomery said. "That is the golden standard at Florida State, so we want to bring that back. I know I'm ready to move on past that regional and go on to a super regional and then hopefully Omaha. We want to win it all. We have high expectations for this team, especially with this new coaching staff."
Read more in-depth stories on top 2023 MLB draft prospects at Baseball Prospect Journal.
Do you enjoy reading Baseball Prospect Journal's draft content? Support our work and become a Patron!
Dan Zielinski III has covered the MLB draft for eight years. He has interviewed 433 of the top draft prospects in that period, including four No. 1 overall picks. Multiple publications, including Baseball America, USA Today, MLB.com, The Arizona Republic and The Dallas Morning News, have quoted his work, while he has appeared on radio stations as a "MLB draft expert." Follow him on Twitter @DanZielinski3.