Michael Carico was the most improved player in college baseball last season. The Davidson catcher dominated college pitching as the team's leadoff hitter, earning a slew of accolades, including All-American honors and Atlantic 10 Conference Player of the Year.
He led the nation in on-base percentage (.559) while hitting .406 with 21 doubles, 21 home runs and 57 RBIs in 272 plate appearances. His success came a year after he was a part-time player and battled through a torn labrum in his non-throwing shoulder during his freshman season.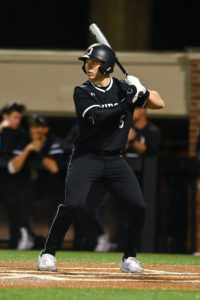 Due to Carico's remarkable sophomore campaign, he enters his junior season as a must-watch player. He also is receiving interest from professional scouts in preparation for the MLB draft. Scouts project Carico as a likely early-round pick in July's draft.
Carico has become a top player in college baseball in the last two years after receiving just two college baseball offers in high school.
"It's a blessing," said Carico on the draft attention. "I try not to take it for granted. It's a situation God has put me in, and I try to thank Him every single day. It's truly a once-in-a-lifetime experience."
Carico's success hasn't come without some skepticism, though. According to Synergy, he faced 22 pitches at 93 mph or harder out of the 1,162 pitches he faced last season. After his sophomore season, he experienced mixed results in the Team USA trials and Northwoods League last summer.
Carico spent the offseason tweaking his swing mechanics and defensively improving his blocking behind the plate. He hopes the offseason work will allow him to build on last year's success and prove doubters wrong this spring.
"Everything said about me, whether I hear it or not, it doesn't matter how big or small it is, motivates me," Carico said. "For me, whenever someone says something about me, it's hard for me to forget sometimes. It really does fuel me."
Carico has a well-balanced toolset. Scouts speak highly of his offensive skills. The 6-foot-1, 200-pound left-handed hitter uses a short, compact swing to consistently square up the baseball and drive the ball to all fields with authority. He has a strong feel for the strike zone, as he had more walks (46) than strikeouts (35) last season.
"My biggest strength is my understanding of the strike zone, as well as my approach at the plate," Carico said. "I feel like it's not an approach where I'm going to pull the ball every time I'm up. But I think it is a gap-to-gap approach with power. You don't see that a ton anymore, especially from left-handed power hitters."
Defensively, Carico has moved from a traditional to a one-knee stance behind the plate at Davidson. The change has allowed him to be more athletic behind the plate. He started catching on one knee with no runners on base his freshman year before also doing it with runners on base last season.
Carico is an athletic catcher with above-average arm strength. His receiving and blocking have improved at Davidson and remain an area he strives to advance. He profiles as a catcher in pro ball.
"I feel like (my defense) is above average, especially after the work I put in this summer," Carico said. "The main thing I had to tweak was my blocking. There were a couple of mechanical issues where I had more pass balls than I wanted to last year. I am finally starting to get more comfortable blocking on one knee. I am super comfortable and confident in my catching ability right now."
Carico's performance last season helped Davidson capture the Atlantic 10 Conference regular-season title. However, the Wildcats lost in the conference tournament and finished with a 43-13 record.
Carico will play a significant role in the Wildcats' success this season as they try to build on last year's success.
The Wildcats are seeking their second-ever NCAA Tournament appearance this season. The program's lone tournament appearance came in 2017 when they went on a fantastic run to beat North Carolina in the regional and advance to the super regional.
"It's not about replicating what we have done, but doing what we know we can do as a team," Carico said. "We need to have the same mentality we had last year. We need to try to win as many games as possible. You just have to take it a game and a time, and I think we will be super successful if we do that."
Read more in-depth stories on top 2023 MLB draft prospects at Baseball Prospect Journal.
Do you enjoy reading Baseball Prospect Journal's draft content? Support our work and become a Patron!
Dan Zielinski III has covered the MLB draft for eight years. He has interviewed 433 of the top draft prospects in that period, including four No. 1 overall picks. Multiple publications, including Baseball America, USA Today, MLB.com, The Arizona Republic and The Dallas Morning News, have quoted his work, while he has appeared on radio stations as a "MLB draft expert." Follow him on Twitter @DanZielinski3.