Christian Knapczyk served as a catalyst atop Louisville's lineup last season. He was always a tough at-bat for opposing pitchers, showing a strong feel for the strike zone and a consistent knack for putting the ball in play. Plus, his speed made him dangerous on the bases.
Knapczyk's skill set and experience as a proven producer at the college level over the last two years make him a must-watch player entering this season.
The junior shortstop will play a vital role on a talented Louisville roster this season while also dealing with attention from scouts in preparation for the MLB draft. Scouts project Knapczyk as a potential early-round pick in July's draft.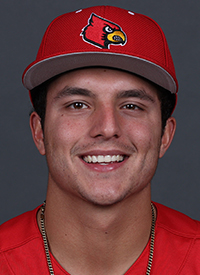 "You just have to put (the draft attention) to the side and not really worry about it," Knapczyk said. "It's always there, but this team has goals that you have to put first. I'll worry about the rest later."
Scouts rave about Knapczyk's bat-to-ball skills and feel for the strike zone. He is a 5-foot-8, 170-pound left-handed hitter with a quick swing and line-drive approach who doesn't strikeout often. He also has above-average speed, which makes him a threat anytime he gets on base.
In his first two years at Louisville, Knapczyk hit .326 with 21 doubles, six triples, two home runs and 46 RBIs in 446 plate appearances. He had more walks (55) than strikeouts (49). He stole 24 on 32 attempts.
Knapczyk offers an exciting toolset at the plate, with his contact-oriented philosophy the biggest strength in his game.
"I just stick to my routine," Knapczyk said. "It probably came from my dad telling me to be short to the ball when I was little. I bet that was a big step in how I got to where I am today."
Defensively, Knapczyk was Louisville's starting shortstop for the last two years. He improved defensively in his second season, increasing his fielding percentage from .926 to .947.
Knapczyk is an athletic defender with range and average arm strength. He hopes to stick at shortstop in the future. If he moves off of shortstop, he profiles as an intriguing utility player with experience playing second base, shortstop, third base and left field between high school and college.
"There is always room for improvement," Knapczyk said. "I feel like I am a pretty good defender. I need to work on my arm strength, obviously. That is where I need to improve the most."
This season, Knapczyk will serve as a key player for Louisville, a preseason top-10 ranked team.
Last year, the Cardinals qualified for the NCAA Tournament after snapping an eight-year tournament streak in 2021. They advanced to the super regional and finished with a 42-21-1 record in 2022.
The Cardinals hope to make it to the College World Series in Omaha, Nebraska, and capture the program's first national title this season. They have made it to the College World Series five times since 2007.
Despite the lofty expectations, the Cardinals are taking a day-by-day approach this season.
"We just need to create an emphasis of getting after it every day and just competing," Knapczyk said. "It will help us get to our goals at the end."
Read more in-depth stories on top 2023 MLB draft prospects at Baseball Prospect Journal.
Do you enjoy reading Baseball Prospect Journal's draft content? Support our work and become a Patron!
Dan Zielinski III has covered the MLB draft for eight years. He has interviewed 433 of the top draft prospects in that period, including four No. 1 overall picks. Multiple publications, including Baseball America, USA Today, MLB.com, The Arizona Republic and The Dallas Morning News, have quoted his work, while he has appeared on radio stations as a "MLB draft expert." Follow him on Twitter @DanZielinski3.