BROOKLYN, N.Y. – New York Mets fans have eagerly waited for Francisco Alvarez, the top-catching prospect in the organization, to have an impact at the big-league level. Alvarez swiftly rose through the Mets' minor-league system, going from advanced Class A to the major leagues within two years.
Many consider Alvarez as the Mets' catcher of the future. But behind him is another highly-regarded backstop in 2022 MLB draft first-round pick Kevin Parada. Parada started this season at advanced Class A Brooklyn and hopes to make a similar trek through the minor leagues.
Scouts have viewed Parada as an offensive-first catcher dating back to his college career at Georgia Tech. In recent years, Parada has prioritized improving his defensive skill set to become a well-rounded catcher.
Development into a top prospect at Georgia Tech
Parada, a catcher known for his acumen at the plate, broke out during his sophomore season at Georgia Tech. He hit .361 with a program record 26 home runs, surpassing Maisano's mark set in 1990.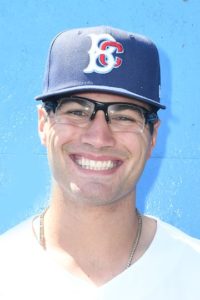 "(I focused on) just becoming a more mature hitter, trying to swing at better pitches," Parada said. "And honestly, I think what allowed me to be better as a hitter in college, was just taking my time and swinging at better pitches, and that allowed for everything else to happen."
Parada received the 2022 Johnny Bench Award, given to the top catcher in Division I college baseball. Past award winners include Baltimore Orioles catcher Adley Rutschman and Georgia Tech alum Joey Bart. Bench selects the recipient of the award. It holds significant meaning for catchers due to the Hall of Famer's role in shaping the position for future backstops.
"It's an awesome award to receive," Parada said. "I got a phone call from Johnny Bench. He just congratulated me and said that he watched my college season and that he wishes me the best for the future."
The Mets picked Parada 11th overall in the 2022 draft. He was the fourth Georgia Tech catcher selected in the first round, joining Bart, Matt Wieters and Jason Varitek. The knack for developing future big-league talent at the school comes from the confidence in their players and the leadership of Danny Hall, who has produced 15 first-round draft picks since becoming the head coach in 1994.
"(Danny Hall) just has trust in catchers. It's one of the most important positions to him when recruiting guys," Parada said. "And so, he likes to find guys that have good quality talent, but also the leadership skills in order to grow as a catcher because that's one of the most important traits."
Developing as a pro catcher
Parada made his pro debut in the Mets organization last summer and produced a .463 on-base percentage in 10 games with Class A St. Lucie. His efforts helped lead St. Lucie to its first title since 2006. It also allowed him to adjust to the learning curve of transitioning to professional baseball.
"College and pro ball. They're two different animals, but in the end, it's the same game," Parada said. "It's a little different, obviously transitioning from a metal bat to a wood bat. But in the end, you're still playing the game of baseball, and guys just have a little bit better stuff in professional baseball. It is part of the learning process."
Traditionally, a catcher's value comes from work and preparation on defense. But Parada adds an additional element to his game with his command of the strike zone at the plate. His advanced approach puts him in hitter's counts and leads to many walks. He also shows good plate control, which enables him to line the ball up the middle and to his pull side. Parada's background as a catcher benefits his plate recognition and high walk rate.
"I'd like to think (my background as a catcher) helps a little bit (with plate discipline), but, in the end, you gotta be ready to hit," he said. "It doesn't matter if a guy throws you a breaking ball or a fastball. If it's in my spot, I'm ready to swing. But anywhere else, be disciplined, like I do going behind the plate, especially because you get a feel for the umpire's zone."
From a defensive standpoint, Parada made strides with his arm strength and blocking balls in the dirt in recent years. He needs to improve his success rate against potential base stealers. He also has moved to the one-knee catching style to improve his receiving skills and pitch framing.
"Obviously, working with big-league catchers and a big-league pitching staff is lot easier to work on different things," Parada said. "They try new things because they know where the ball's going all the time and they're very consistent with how they miss and what spots they hit.
"(The one-knee catching style) is something I've adopted. It helps me as a player, and I believe that I'm able to be athletic behind the plate. Most of the reason for it is because it helps with receiving."
First full pro season
The Mets invited Parada to major-league camp this year. It was a beneficial experience for the young catcher and allowed him to further his growth defensively.
Parada also worked with some of the Mets' top pitchers, catching future Hall of Fame pitchers Max Scherzer and Justin Verlander. Big-league camp for a top prospect provides a glimpse into the major-league culture and the resources to move up the organizational ladder.
"You look up on that big-league roster right now, and it was pretty awesome (to experience) just because they have years and years of professional baseball experience, big-league experience, and even yet Hall of Famers there," Parada said. "You just learn a lot. How sequencing works. What do they do when they're struggling? The art of it is just being able to get through every game and just trying to grow every day."
Parada joined the Cyclones in April and posted a .447 on-base percentage in his first eight games. He maintained his keen batting eye, notching eight walks in the span, tying him for second in the South Atlantic League. The transition to full-season ball was seamless for Parada, who looks to continue making strides in his overall play.
"Everything's gone well so far. I'm really enjoying it (here in Brooklyn). Obviously, we'd like to win a little bit more than we have been, but it'll come, and I think we have a lot of talent here, and it's a lot of fun. It is just continuing to play the game and see where it goes."
Learn more about Kevin Parada and his development by reading an MLB draft profile here.